Pirates release Halifax oil tanker off Nigeria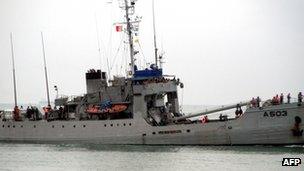 An oil tanker seized by pirates off the coast of the Niger Delta last week has been released, officials in Nigeria say.
The vessel - the MT Halifax - was attacked near the oil city of Port Harcourt.
The crew of 25, mainly Filipinos, were said to be safe and accounted for.
The area has seen an increase in the number of hijackings of tankers as pirates target oil shipments moving out of Nigeria.
In most cases the cargo of fuel is taken off before the ship and crew are released unharmed - unlike in Somalia where crews and their ships are held until ransoms are paid, often after several months.
"The vessel is presently being escorted to Port Harcourt harbour by Nigerian Navy Patrol Team," a spokeswoman for the Nigerian Maritime Administration said.
"Part of the cargo was siphoned," she said.
The Halifax is operated by the Greek-based Ancora Investment Trust Inc and is flagged out of Malta.
Ancora lost contact with the tanker on 30 October, according to the International Maritime Bureau (IMB).
An official said it was located about 100km (60 miles) off Port Harcourt before it was hijacked.
The United Nations this week urged West African nations to increase naval patrols following a surge of pirate attacks in the Gulf of Guinea.
West Africa has seen a growing number of oil tanker hijackings in recent months as pirates target oil shipments from Nigeria, one of the world's biggest producers.
Over the last eight months, piracy there has escalated from low-level armed robberies to hijackings and cargo thefts.
In August, London-based Lloyd's Market Association - an umbrella group of insurers - listed Nigeria, neighbouring Benin and nearby waters in the same risk category as Somalia.
On Monday, a top UN official, Taye-Brook Zerihoun, said that Somali pirates were inspiring copycat attacks in other parts of Africa.
Related Internet Links
The BBC is not responsible for the content of external sites.