US warns of attacks on hotels in Nigerian capital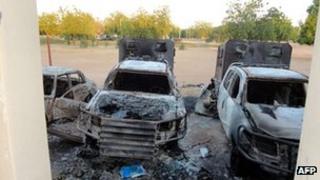 An Islamist group which has carried out deadly attacks in north-eastern Nigeria may be planning to bomb hotels in the capital, Abuja, the US embassy says.
The Hilton, Nicon Luxury and Sheraton hotels were named as possible targets of the Boko Haram group.
The warning came as the Nigerian Red Cross said more than 100 had died in the attacks, mainly in the town of Damaturu.
Pope Benedict XVI has appealed for an end to the violence.
On Sunday, Boko Haram gunmen shot dead a police inspector in the city of Maiduguri, 130km (80 miles) east of Damaturu.
Specific warning
The US embassy warning is regarded as unusually specific.
The hotels it has named draw diplomats, politicians and Nigeria's business elite.
The embassy said the attack may come as Nigeria celebrates the Muslim feast of Eid al-Adha. It instructed its diplomats and staff to avoid those hotels.
Boko Haram has told a newspaper it was behind the Damaturu attacks and that it plans to hit further government targets.
The government stepped up security in Abuja, which has been the target of past Boko Haram attacks.
They included a suicide bomb attack on at the UN headquarters on 26 August which killed 24, and the bombing of the police headquarters on 16 June, in which six people died.
'Tragic events'
Pope Benedict said he was following with apprehension the "tragic events" in Nigeria.
"While I pray for the victims, I ask for an end to all violence, which does not resolve problems but increases them, sowing hatred and divisions, even among the faithful," the pope said.
The United Nations Security Council also condemned the attacks as "criminal and unjustifiable".
A statement from UN Secretary-General Ban Ki-moon called for "an end to all violence in the area" and offered sympathy to the victims.
President Goodluck Jonathan was "greatly disturbed" by the attack, and said his government was working hard to bring those "determined to derail peace and stability in the country to book", according to a spokesman.
But Boko Haram gunmen carried out another killing on Sunday.
They stopped a police inspector's car at gunpoint, as he neared a mosque to pray with his family in the city of Maiduguri.
Local Police Commissioner Simeon Midenda said the family was ordered away while they shot the inspector dead, before letting them drive the car away.
"Our men who live in the midst of the Boko Haram are not safe," Mr Midenda said.
The targets of the earlier attacks on Damaturu included churches and the headquarters of the Yobe state police.
A priest described gangs of young men roaming the streets throwing improvised bombs into churches.
Boko Haram, which means "Western education is forbidden", has launched frequent attacks on the police and government officials.