Curtain call for South Africa's Julius Malema show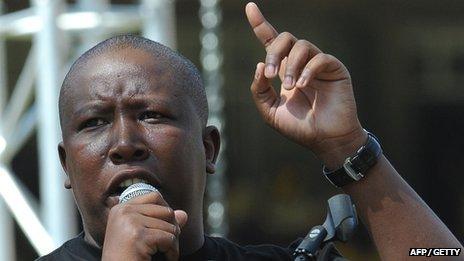 Many - including the star himself - seem convinced this is just another dramatic plot twist in a soap opera that must surely have many more seasons to run.
My own sense is that President Jacob Zuma - a ditherer when it comes to policies, but a ruthlessly efficient and experienced master in the darker arts of political survival - would not have moved against Mr Malema if he didn't have a reasonably competent strategy in place.
I would be surprised, for example, if the ongoing investigations into alleged corruption by the ANC youth league president did not start to gain momentum and traction in the days and weeks ahead.
We shall see. In the meantime, here is something I wrote for the radio immediately after yesterday's verdict was announced in Johannesburg.
And it's very hard to get away from him.
Julius Malema has the bling of a chubby rap star, the political subtlety of Venezuela's Hugo Chavez, and the divisive powers of marmite.
To nervous whites in South Africa, he's another Robert Mugabe in the making. To middle class blacks, he's plain embarrassing. To many poor, neglected communities - he's a hero: A rags-to-riches fighter who promises an economic revolution in one of the world's most unequal societies.
But - in a packed, sweaty office lobby - the ANC announced it was pulling the plug on Juju's big adventure.
For the next five years he will be suspended from the party he first joined as a pushy kid during the last, bruising years of apartheid.
It is a big moment for South Africa - and the ANC - the ruling party that turns 100 next year and is widely believed to be losing its way.
There are three main reasons Juju is out.
First of all - he's guilty. He repeatedly violated the ANC's code of conduct. The rules are pretty clear.
Secondly - there's politics. President Jacob Zuma is running for a second term next year. Julius Malema had become a powerful, outspoken rival. Not any more.
Thirdly - there's the money. Juju's Mugabe-style rhetoric about nationalising the mines, and seizing white-owned land, has been scaring away foreign investors. One close friend of the president told me Mr Malema has become a national security risk. He has to go.
And so he has. At least, he will go if an appeal fails, as seems likely.
And suspension from the ANC may be the least of his worries. His mysteriously fancy lifestyle has been attracting a little too much attention - and now the police say they're investigating him for alleged corruption.
And so, like some gaudy soap-opera, the Malema show is coming to an end.
To some extent it's been a media creation. After all he's only the head of the youth league of the ANC. His power should be negligible.
And yet, across Africa, everyone I meet seems to have an opinion about him.
He embodies and articulates some of the confusions and contradictions of a continent that has shaken off colonialism, and embraced economic growth, only to find that the Chinese and the banks now seem to call the shots.
South Africa will be duller without him. And maybe better off. But in a country where many are losing faith in their politicians' ability to confront decades of inequality, Mr Malema is a symptom. And there will be others like him.
Related Internet Links
The BBC is not responsible for the content of external sites.