Swaziland Aids orphans 'owed $10m' - IMF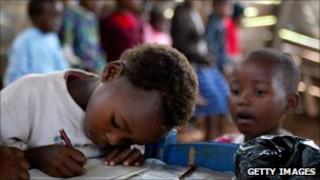 Swaziland's government has failed to pay more than $10m (£6.3m) in grants to Aids orphans because of its financial crisis, an IMF official has said.
Swaziland has the world's highest HIV/Aids rate, leaving some 69,000 orphans.
The IMF's Joannes Mongardini said the government should cut its wage bill to ease its financial crisis.
Critics say lavish spending by King Mswati III and his 13 wives has worsened the crisis.
The government says its financial problems have been triggered by the global economic crisis and a sharp decline in the landlocked kingdom's income from the Southern African Customs Union (Sacu), following a new tariff deal.
'Generous allowances'
Swaziland has not yet accepted a $355m bailout from neighbouring South Africa after Pretoria set a series of conditions - including political and economic reforms.
In a statement after visiting Swaziland, an IMF team - led by Mr Mongardini - said Swaziland's government was facing "severe liquidity constraints".
"Government revenue collections are insufficient to cover essential government expenditures, including the wage bill," it said.
"More importantly, key social programs... are being negatively affected."
Mr Mongardini told the BBC that the government had "owed" $10m in grants to orphans and $4m to elderly people since September.
He said 26% of Swaziland's adult population is infected with HIV/Aids, and tens of thousands of children are orphans.
He said the IMF had asked the government to reduce its wage bill by 5% by slashing, among others, "generous allowances" given to politicians and top civil servants.
The wage bill had also risen because of an increase in security force numbers, he said.
All Swazis - including the monarchy - would have to make sacrifices if Swaziland's finances were to improve, Mr Mongardini said.
King Mswati is sub-Saharan Africa's only absolute monarch, and has refused to introduce multi-party democracy.
Political parties are banned in Swaziland.
At the weekend, Swaziland's top Anglican cleric, Bishop Meshack Mabuza, called on King Mswati to give up political power in favour of a democratic government.