Kenya offers to boost AU force in Somalia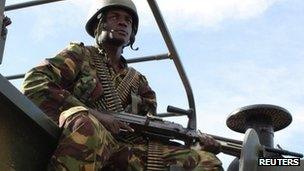 Kenya is prepared to send troops to bolster the African Union (AU) force in Somalia to tackle militant Islamists, Foreign Minister Moses Wetangula says.
Kenya launched military action in Somalia last month after blaming the al-Shabab group for a spate of abductions on its territory.
Al-Shabab, which denies involvement in the abductions, has vowed to retaliate.
The AU has about 9,000 troops in Somalia, but they are confined to the capital, Mogadishu.
Al-Shabab, which is linked to al-Qaeda, controls most other parts of southern and central Somalia.
Mr Wetangula told the BBC Kenya was prepared to beef up the AU force.
"That is on offer. In case a request is made, Kenya will avail a few of its battalions [made up of about 1,000 soldiers each] to join Uganda, Burundi and Djibouti to help keep the peace in Somalia," he told the BBC's Network Africa programme.
"It's not difficult to do that."
The 9,000-strong AU force is currently made up of Ugandan and Burundian soldiers, with Djibouti and Sierra Leone expected to bolster its numbers to 12,000 by the end of the year.
The African Union says it would like to increase its numbers to 20,000 but so far, there have not been enough concrete troop offers.
Mr Wetangula said a 2006 UN Security Council resolution - which prevented states bordering Somalia from contributing to the AU force - had been changed a year later, making it possible for both Djibouti and Kenya to offer troops.
Kenya's President Mwai Kibaki discussed Kenya's offer with his Somali and Ugandan counterparts - Sheikh Sharif Ahmed and Yoweri Museveni respectively - in Nairobi on Wednesday.
However, the communique read out by Mr Wetangula to the press in the presence of the three presidents made no mention of the Kenyan troop offer.
BBC East Africa correspondent says there was then surprise when a different communique was released to the media with a paragraph amended to include it.
Mr Wetangula has flown to Morocco to brief an Arab League meeting about Kenya's incursion into Somalia.
Last month, President Ahmed publicly opposed the incursion, which Nairobi says is aimed at securing the long border between the two countries.
Nairobi accuses al-Shabab of abducting several people from Kenya since September - including a French woman who suffered from cancer and who, French authorities say, has since died.
Al-Shabab says it views the incursion as an act of war and it will take revenge by attacking Kenya.
Al-Shabab is locked in a battle with the weak UN-back interim government for control of the parts of the country which are currently outside its power, particularly Mogadishu.
Related Internet Links
The BBC is not responsible for the content of external sites.