Tunisia coalition agrees top government posts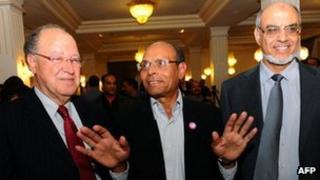 Tunisia's three main parties have decided on who will hold the top posts in a power-sharing government.
Hamadi Jebali, from the Islamist Ennahda party, is to be prime minister.
Moncef Marzouki from Congress for the Republic is to be president while Ettakol's Mustafa Ben Jaafar is to be the new assembly's speaker.
Ennahda won last month's elections, Tunisia's first free polls since Zine al-Abidine Ben Ali was overthrown in January after 23 years in power.
Mr Ben Ali's ousting as president followed the first in a wave of popular uprisings across the Middle East that has reshaped the politics of the region.
The moderately Islamist Ennahda took 89 seats in the 217-member assembly, while the Congress for the Republic won 29 seats, and centre-right party Ettakatol gained 21.
The assembly has been charged with drafting a new constitution. It is to meet on Tuesday for the first time to confirm the posts, says AFP news agency.
"We have an agreement to organise elections within a period of not more than a year," said Nourdine Bhiri, spokesman for Ennahda.
The nominations will require the approval of the constitutional assembly itself.
All three men have a history of opposition to Mr Ben Ali.