Gambian polls close in election denounced by Ecowas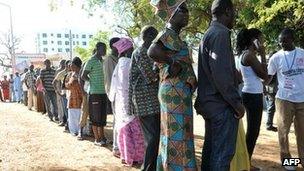 Polls have closed in The Gambia in presidential elections condemned by the West African regional body, Ecowas, as lacking legitimacy.
Because of high rates of illiteracy, voters cast their ballot by putting a glass marble into a coloured drum representing their candidate.
President Yahya Jammeh, who seized power in 1994, is seeking re-election.
Ahead of the poll, Ecowas said it would not be free and fair because of high levels of ruling party intimidation.
Mr Jammeh, 46, is facing Ousainou Darboe, leader of the United Democratic Party (UDP), and Hamat Bah, who is being backed by a coalition of four opposition parties.
The BBC's Umaru Fofana from the capital, Banjul, says voting was peaceful and long queues could be seen in the city and in nearby Serrekunda.
Some people were queuing from as early as 05:00 GMT, two hours before polls opened, he said.
A 27-year-old voter, Amie Khan, was one of the first to cast her ballot in Banjul's Kombo North polling station - sending a clang ringing out as her marble hit the bicycle bell inside a dark green drum bearing a picture of her candidate, AFP news agency says.
"I voted for Jammeh because thanks to him I was able to attend university here," she said.
The Gambia has used drums and marbles, instead of ballot papers and boxes, since 1965 because of high levels of illiteracy.
Votes are cast in a booth to ensure secrecy.
At a polling station in Serrekunda, unemployed voter Musa Sanneh said he had cast his ballot for the opposition.
"Seventeen years of misrule is enough so Jammeh must go," he is quoted as saying.
Ecowas said its investigations found "an opposition and electorate cowed by repression and intimidation".
"The preparations and political environment for the said election are adjudged by the commission not to be conducive for the conduct of free, fair and transparent polls," the 15-state West African bloc said in a statement ahead of the poll.
It would, therefore, not send election observers to The Gambia, Ecowas said.
Observers from the African Union (AU), Commonwealth and the Organisation of Islamic Conference (OIC) did, however, monitor the poll.
AU observers said they were so far satisfied with the electoral process, our reporter says.
The chairman of Gambia's Independent Electoral Commission, Mustapha Carayol, reacted angrily to Ecowas's decision.
"The allegations are all lies," he told the BBC.
Ahead of the presidential poll in 2006, Ecowas urged the opposition not to boycott the elections and endanger the "democratisation of the country".
Mr Jammeh has won three widely criticised elections since seizing power in a bloodless coup 17 years ago.
When he cast his vote on Thursday morning he told the BBC he was confident of winning.
"In 17 years I have delivered more development than the British were able to deliver in 400 years.
"Do I look like a loser? There is no way I can lose unless you tell me that all Gambian people are mad," he said.
But if the Gambian people say they don't want me, I will go home, I'll be a farmer."
Mr Jammeh's government has been criticised by international rights groups for its attitude to civil liberties, especially freedom of the press and the detention and disappearance of journalists.
"When they talk about rights, freedom of the press and [saying] this country is a hell for journalists. There are freedoms and responsibilities," he said.
"The journalists are less than 1% of the population and if anybody expects me to allow less than 1% of the population to destroy 99% of the population, you are in the wrong place."
The results are due to be released on Friday.
Related Internet Links
The BBC is not responsible for the content of external sites.