Cycling to power in DR Congo?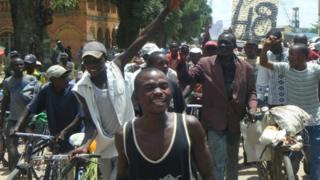 For 20 years, Alphonse Awenze Makiaba has been transporting anything from farm produce to passengers on his bicycle, commonly known as a toleka in the Democratic Republic of Congo.
But the largely penniless "tolekist" - who wears tattered jeans and open shoes - is the centre of attention in the eastern city of Kisangani after he announced his candidature for a national parliamentary seat in elections due on 28 November - a job that comes with a monthly salary of $10,000 (£6,400).
At the official launch of the campaign last month, Mr Makiaba, a 47-year-old bachelor, hit the road in a unique way.
Unlike many of his competitors who put up flashy posters and mounted loud speakers on cars to garner support, he reported to work on his rickety bicycle, seeing each passenger as a potential voter and making sure that none of them reached their destination without agreeing to back him at the polls.
Within a short time, news of his candidacy spread like a bush fire around Kisangani - not surprising as Mr Makiaba is the first bicycle taxi-owner to seek parliamentary office in the country.
He is running against 200 candidates in one of five seats up for grabs in Kisangani - a mining city of more than 600,000 people.
Mr Makiaba, although poor, is very charismatic and emotional about politics.
"I cannot believe what is happening. My desire was just to help people. I did not know it would turn out this way," he says on the campaign trail. "Look at the sea of people supporting me - I cannot believe it. Maybe god wants to use me as a saviour."
At Kisangani's central market, women, men and youths were swept away by the candidate, who presently earns, at most, $2 a day, mainly by transporting goods between markets and the homes of his clients, most of whom are housewives.
'Nepotism'
"We have known him for years. He is one of us and I think he understands the pain of being a poor man in DR Congo and has our interests at heart," Alphonse Bahia says animatedly.
His fellow tolekists are leading his election campaign.
Each morning, they ride through the city chanting his name and the number 48, his position on the ballot booklet - rather than ballot paper - being printed to accommodate the large number of candidates.
Countrywide, more than 18,000 candidates are competing for 5,000 parliamentary seats.
As Mr Makiaba, now simply known in Kisangani as Quarante-Huit [French for Number 48], cannot afford to print posters, his supporters have also photocopied his black-and-white picture, pasting it on bicycles and circulating it across the city.
Mr Makiaba says corruption and nepotism in the government drove him into politics.
"I want families in DR Congo, a very rich country, to have the pleasure of eating three square meals a day and to send their children to school," says Mr Makiaba, who can barely afford two meals a day.
"This [Mr Makiaba's candidature] can be our source of deliverance," says a neighbour, who gave his name only as Charles.
He says Mr Makiaba considered running in the 2006 election - the first poll in DR Congo in more than 40 years - but "hesitated".
For this election, he had been quietly campaigning since 2009, Charles says.
"Alphonse was already close to all his customers and he kept on insisting to them: 'Do not forget me,'" he says.
Sponsored by the little known Convention for the Republic and Democracy (CRD), Mr Makiaba says he was forced out of two other parties for being "very outspoken about injustices" within their ranks.
Designer suit
His supporters say he is a threat to other wealthy candidates because of the support he commands.
In fact, crowds forced the three main presidential candidates - incumbent Joseph Kabila, Etienne Tshisekedi and Vital Kamerehe - to allow him to speak at their rallies.
"When President Kabila was here, people shouted down the governor and asked the president to allow Alphonse to speak on their behalf because the governor had failed," recalls local resident Pierot Mungali.
His fledgling political career has already changed his lifestyle.
Mr Makiaba has abandoned his shack in Kisangani's swampy Kilanga 2 neighbourhood, apparently because of concerns about his safety in a country where polls tend to be marred by violence and intimidation.
"He is the poor man's candidate. Therefore, we have raised funds to pay for his accommodation at different places each night," says Mama Lela, a female neighbour.
His supporters have already bought a new designer suit and shoes for him, believing he will need them for his swearing-in ceremony in the capital, Kinshasa.
But DR Congo journalist and publisher Ernest Mukuli says that while Mr Makiaba commands support in Kisangani among opposition sympathisers, non-aligned voters and ruling party supporters, he is not assured of victory.
He says Kisangani is a stronghold of Mr Kabila and the candidate of the ruling People's Party for Reconstruction and Development (PPRD), Pierre Daruwezi, may do very well.
"Let us not forget it will be a secret ballot. Things may change at the 11th hour since he is running against a very wealthy candidate sponsored by the ruling party," Mr Mukuli says.
During Mr Kabila's campaign tour, he managed to convince Alphonse to back him since his CRD party had no presidential candidate.
"His decision to support Kabila may reduce his influence because [some of his supporters] may not want to be associated with the president," Mr Mukuli says.
But whether he wins or not, Mr Makiaba's supporters say the tolekist-turned-politician has already made history, starting what they call a poor man's revolution in this diamond and gold-rich region of DR Congo.
Inside DR Congo
The Democratic Republic of Congo covers 2,344,858 square km of land in the centre of Africa, making it the 12th largest country in the world.
Eastern DR Congo is awash with a variety of different rebel groups – some have come from neighbouring countries, while others have formed as self-defence groups. Many are taking advantage of the lack of a strong state to seize control of the area's mineral riches.
DR Congo has abundant mineral wealth. It has more than 70% of the world's coltan, used to make vital components of mobile phones, 30% of the planet's diamond reserves and vast deposits of cobalt, copper and bauxite. This wealth however has attracted looters and fuelled the country's civil war.
Despite the country's size, transport infrastructure is very poor. Of 153,497km of roads, only 2,794km are paved. There are around 4,000 km of railways but much is narrow-gauge track and in poor condition. Waterways are vital to transport goods but journeys can take months to complete. Overcrowded boats frequently capsize, while DR Congo has more plane crashes than any other country.
With an estimated population of 71 million, DR Congo is the fourth most populous country in Africa. Some 35% of the population live in cities and the capital Kinshasa is by far the largest, with more than 8 million inhabitants. DR Congo has around 200 ethnic identities with the majority of people belonging to the Kongo, Luba and Mongo groups.
Given its size and resources DR Congo should be a prosperous country, but years of war, corruption and economic mismanagement have left it desperately poor. In 2011 it lags far behind in many key development indicators, with average life expectancy increasing by only 2 years since 1980, after a period when it actually fell during the mid 1990s.