Mali gunmen abduct two French citizens from hotel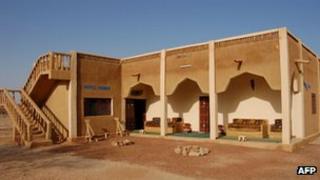 Gunmen in Mali have abducted two French citizens from their hotel in the central town of Hombori, military officials and witnesses say.
It is the first kidnapping of Westerners in Mali that has occurred south of the River Niger.
Al-Qaeda linked fighters have in the past brought hostages into northern Mali from neighbouring countries.
Huge swathes of the Sahel region south of the Sahara Desert have been rendered off-limits to foreigners.
The BBC's Martin Vogl, in the Malian capital Bamako, says military vehicles and security personnel have been sent to Hombori to try to stop the hostage takers crossing the Niger River in case they plan to go to the bases of al-Qaeda in the Islamic Maghreb (AQIM) in the far north of the country.
The two French geologists were working at a site about 35km (20 miles) from Hombori, where their company was hoping to extract material used to produce cement.
A senior Malian army official said the two men were abducted at around 01:00 GMT from their hotel and taken away by men wearing turbans in 4x4 vehicles.
The owner of the hotel where the aid workers were staying has told Radio France International (RFI) that armed men demanded he show them the men's room.
"They told me they hadn't come for me but for the white men," he said. "They told me not to shout or do anything. I showed them the room and then they tied me up. I heard one of the Frenchmen shout and I saw traces of blood."
Harder line
The French Foreign Ministry has confirmed the French nationals have been taken, but said the circumstances were unclear.
It brings to six the number of French nationals kidnapped in the region. Four others were abducted in neighbouring Niger in 2010.
Two Spaniards and two Italians are also held by militants in the region.
Our reporter says Thursday's kidnapping in Hombori undermines the Malian government's position that most hostages are abducted elsewhere in the region where borders are porous.
France has apparently been hardening its position against the kidnappers.
In March, it said it would not negotiate on a demand by AQIM for 90m euros ($120m) to release the remaining four French nationals it has held hostage since September 2010.
France sent special forces soldiers to try to rescue two Frenchmen kidnapped in Niger in January. The pair were killed during the operation.