Nigeria comic Baba Suwe compensated for drugs arrest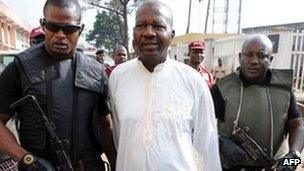 A Nigerian comic actor who was wrongly detained on suspicion of trafficking drugs in his stomach has been awarded more than $155,000 (£100,000).
A judge at the High Court in Lagos said the detention of Baba Suwe - as he's popularly known - was a flagrant abuse and infringement of his rights.
Baba Suwe was stopped at the airport in Lagos as he was about to board a flight but no drugs were subsequently found.
He was detained for three weeks before being freed on bail.
The comic actor, whose real name is Babatunde Omidina, was held on suspicion of drug trafficking on 12 October after a body scanner at Lagos airport identified suspected drugs in his stomach.
But after more than three weeks in jail, and 25 bowel movements, officials from the National Drug Law Enforcement Agency (NDLEA) admitted he had failed to excrete any drugs.
As well as ordering damages to be paid to the comedian, the court also told the NDLEA to publish a public apology "on conspicuous pages" in two national newspapers.
Justice Yetunde Idowu said the NDLEA had failed to account for the nine days during which the comedian was in its detention before it "rushed" to a Federal High Court to get an order to continue to detain him.
The NDLEA's Director of Public Prosecutions and Legal Services Femi Oloruntoba said the agency would appeal.
Baba Suwe is a famous comedian in Nigeria's film industry, known as Nollywood, and his arrest shocked many of his fans.
He acts in both English and Yoruba language films, often playing the role of a befuddled butler or security guard.
Related Internet Links
The BBC is not responsible for the content of external sites.