Gambia's Fatou Bensouda to be new ICC chief prosecutor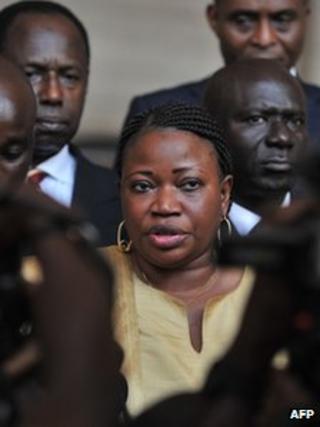 Fatou Bensouda is set to be named the new International Criminal Court chief prosecutor, diplomats say.
The 50-year-old lawyer from The Gambia serves as the deputy to Luis Moreno-Ocampo, whose term ends next year.
She previously worked as a legal adviser at the International Criminal Tribunal for Rwanda in Tanzania.
The ICC's cases are currently all in Africa, and some of the continent's leaders have accused it of only pursuing Africans.
A successor to Luis Moreno-Ocampo will be formally elected by the Assembly of States Parties - the body representing the 119 countries that support the tribunal - at its annual meeting in New York on 12 December.
However, the president of the ASP, Liechtenstein's UN ambassador Christian Wenaweser, says she is now the only candidate.
It had been agreed that Mr Ocampo's successor should be an African and the only other candidate, Tanzania's Mohamed Chande Othman, is said to have withdrawn.
"I will recommend to the [12 December] meeting that, based on my consultations, we go forward with a single candidate, Fatou Bensouda," Mr Wenaweser told Reuters news agency by telephone.
The ICC, based in The Hague, is the world's first permanent war crimes tribunal and began operating in 2002.
Ms Bensouda told the AFP news agency that she was working for the victims of Africa. "That's where I get my inspiration and my pride," she said.
African cases
Nine years after the court came into being it still has not secured a conviction.
The ICC is currently holding suspects in custody who are accused of committing atrocities in the following countries:
Democratic Republic of Congo
Central African Republic
Ivory Coast
Arrest warrants have also been issued relating to alleged crimes in Uganda, Libya and Darfur in Sudan, while it has accused six prominent Kenyans of organising post-election violence in 2007-8.
While preliminary investigations are being carried out into suspected crimes in other countries, including Afghanistan and Georgia, no arrest warrant has been issued for a non-African.
The former Ivory Coast President, Laurent Gbagbo, arrived in The Hague early on Wednesday after being flown from Ivory Coast. He is accused of being an "indirect co-perpetrator" of murder, rape, persecution and other inhuman acts following the elections in Ivory Coast last year.
He is the first former head of state to be taken to The Hague for prosecution.
Sudan's President Omar al-Bashir is wanted by the ICC for alleged war crimes in Darfur. He was the first serving head of state to be indicted by the ICC.
The African Union says that its member states should "disregard" the ICC's arrest warrant for Mr Bashir, arguing that arresting Sudan's president would hamper the search for peace in Darfur.