DR Congo election: Joseph Kabila 're-elected'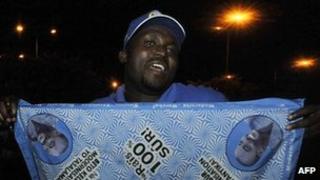 President Joseph Kabila has won the Democratic Republic of Congo's election, provisional results show.
He obtained 49% of the vote against 32% for veteran opposition leader Etienne Tshisekedi, the election commission chief said.
Mr Tshisekedi has rejected the results and declared himself president, raising fears of violent protests
The announcement of results has been delayed since Tuesday, with election officials blaming logistical problems.
DR Congo is rich in minerals such as gold, diamond and coltan, which is used in mobile phones. But years of conflict and mismanagement mean it recently came bottom of a survey of living standards around the world.
Riot police are patrolling the streets of the capital, Kinshasa, seen as an opposition stronghold in this country which is still recovering from years of conflict in which some four million people died.
The BBC's Thomas Hubert in Kinshasa says gunfire has been heard near Mr Tshisekedi's house but he says there are no crowds or a large police presence.
The AFP news agency reports protests elsewhere in the city, with stones thrown at riot police and tyres set on fire in the streets in the central Bandale district.
Many shops and stalls in the city's markets have been closed for most of the week.
"The Independent National Electoral Commission certifies that candidate Kabila Kabange Joseph has obtained the simple majority of votes," said election commission chief Daniel Ngoy Mulunda.
On Thursday, he said the results had been delayed again in order to "assure the credibility" of the numbers.
In the eastern city of Goma, people started to celebrate as soon as the results were announced on national TV and radio, reports the BBC's Joshua Mmali in the city.
Mr Kabila enjoys greater popularity in eastern areas, where his origins lie and where he is credited with helping to end the war.
However, he is less popular in the west, partly because he is not fluent in the local Lingala language and because some see him as representing foreign interests.
Mr Tshisekedi dismissed the result as an "outright provocation to our people".
"I consider myself from this day on as the elected president of the Democratic Republic of Congo," he said in a statement.
Referring to his supporters as "fighters", he said: "I urge you to stick together as one man behind me to face the events that will follow."
Amid fears of a violent reaction to the results, the chief prosecutor at the International Criminal Court this week warned all sides that engaging in electoral violence would not be a ticket to power but a ticket to The Hague.
The results still have to be ratified by the supreme court.
International protests
Mr Kabila, 40, has been president since 2001, following the death of his father, Laurent.
In 2006 he won the first elections since the end of a five-year conflict and is now due to be sworn in on 20 December for his second term.
Earlier this year, the constitution was amended so that the candidate with the most votes wins the elections, removing the need for a second round.
As well as the presidential race, more than 18,000 candidates contested 500 parliamentary seats.
Mr Tshisekedi, 78, campaigned for multi-party democracy during the years of former leader Mobutu Sese Seko but this was the first time he has contested an election.
His supporters have been protesting in South Africa, Belgium, France and the UK, accusing the international community of backing Mr Kabila.
Four other candidates have said the election should be annulled because of alleged fraud, including pre-marked ballot papers.
Voting material did not arrive in some polling stations for four days after the election was supposed to have been held.
Election officials used helicopters from the UN peacekeeping mission to deliver material to remote parts of the country, which is two-thirds the size of Western Europe but with hardly any paved roads or railways.
But the African Union and four other African observer missions said the polls had been "successful" and urged both sides to show restraint.
The European Union observer mission said its preliminary findings showed that the polls were marred by "numerous irregularities, sometimes serious".
Several thousand people last weekend fled Kinshasa for neighbouring Congo-Brazzaville as fears grew that violence would escalate once completed results are published.
Inside DR Congo
The Democratic Republic of Congo covers 2,344,858 square km of land in the centre of Africa, making it the 12th largest country in the world.
Eastern DR Congo is awash with a variety of different rebel groups – some have come from neighbouring countries, while others have formed as self-defence groups. Many are taking advantage of the lack of a strong state to seize control of the area's mineral riches.
DR Congo has abundant mineral wealth. It has more than 70% of the world's coltan, used to make vital components of mobile phones, 30% of the planet's diamond reserves and vast deposits of cobalt, copper and bauxite. This wealth however has attracted looters and fuelled the country's civil war.
Despite the country's size, transport infrastructure is very poor. Of 153,497km of roads, only 2,794km are paved. There are around 4,000 km of railways but much is narrow-gauge track and in poor condition. Waterways are vital to transport goods but journeys can take months to complete. Overcrowded boats frequently capsize, while DR Congo has more plane crashes than any other country.
With an estimated population of 71 million, DR Congo is the fourth most populous country in Africa. Some 35% of the population live in cities and the capital Kinshasa is by far the largest, with more than 8 million inhabitants. DR Congo has around 200 ethnic identities with the majority of people belonging to the Kongo, Luba and Mongo groups.
Given its size and resources DR Congo should be a prosperous country, but years of war, corruption and economic mismanagement have left it desperately poor. In 2011 it lags far behind in many key development indicators, with average life expectancy increasing by only 2 years since 1980, after a period when it actually fell during the mid 1990s.