Gunfight erupts near Tripoli airport in Libya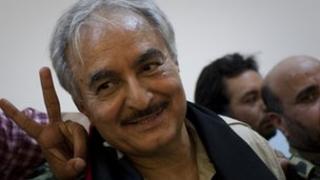 Gun battles broke out near the international airport in the Libyan capital, Tripoli, army officials said.
An army spokesman told Libyan TV two gunmen opened fire on Saturday on a convoy accompanying army chief Maj-Gen Khalifa Haftar but called it an "isolated incident".
It was reportedly followed by hours of clashes along the coastal road.
The violence adds to concerns over stability in Libya after the toppling of Muammar Gaddafi earlier this year.
'Exaggerated'
Army officials and rebels offered conflicting accounts of events.
Unnamed army officials told AP news agency that rebels belonging to the Zintan brigade - who control the airport - were behind the violence.
But a member of the Zintan brigade, Abu Bakr al-Ahrash, told AFP that it was members of the army who attacked his unit near the airport.
"They confiscated two pick-up trucks loaded with anti-aircraft guns. They tried to take control of the checkpoint. They wounded two of our fighters and arrested two others," he said.
Members of the Zintan brigade are holding Gaddafi's son Saif al-Islam.
Col Ahmad Bani, spokesman for the Libyan National Army, said only that an army convoy returned fire after coming under attack.
One person was arrested, while an investigation is under way, he said.
"Media sources have exaggerated what happened. It was only an isolated incident which did not have any political or criminal background," he told al-Ahrar TV.
The clashes came on the same day as the country's governing National Transitional Council held its first conference on national reconciliation.
The NTC has given militias in Tripoli until 31 December to disarm and leave the city.