Nigeria arrests Boko Haram 'militants' in Kano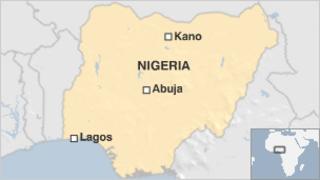 Police in Nigeria have arrested 14 suspected Islamist militants, after a shoot-out in which seven people were killed in the northern city of Kano.
Three police officers and four militants were killed, said Kano state police chief Ibrahim Idris.
Some security sources have suggested that one of those arrested was one of Boko Haram's leaders but the group has denied this.
Boko Haram has staged numerous attacks across northern and central Nigeria.
The group, whose name means "Western education is forbidden", often targets the security forces and state institutions.
In August it claimed responsibility for a bomb at the UN headquarters in Nigeria's capital, Abuja, which killed at least 23 people.
The BBC's Abdullahi Kaura Abubakar says that until last week, Kano, the biggest city in northern Nigeria, had been spared from the group's recent campaign of violence.
On Thursday night, suspected members of the group attacked a military-run secondary school near the city, killing four air force officers, hospital sources said.
On Saturday, one of those arrested - Mohammed "Hamza" Aliyu - suspected that his house was under surveillance and called in members of his militant group to attack the police, resulting in the shoot-out, Mr Idris said.
Weapons and ammunition suspected to have been stolen during recent attacks on police stations in northern Nigeria were found in his car, while bomb-making materials were located in his house, the police chief said.
A source close to Boko Haram described Mr Aliyu as a "new recruit" to the group.
The arrests come after that of a man accused of being the group's spokesman and a senator accused of concealing information about the militants.
The group first came to prominence in 2009 when hundreds of its followers were killed when they attacked police stations in the north-eastern city of Maiduguri.
Its founder, Mohammed Yusuf, was arrested but died in police custody.
Boko Haram resumed its attacks - mostly in Maiduguri - a year later and has since staged deadly raids across the mostly Muslim north, as well as central areas such as Jos and Abuja.
Under Yusuf's leadership, the group demanded that Nigeria become an Islamic state but it is now believed to be made up of several factions, with various demands.