Parting shots: Farewell to a cameraman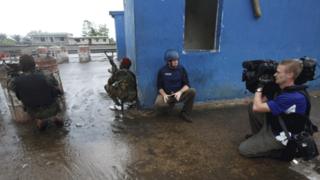 Life may be full of close partnerships. But in this line of work, few relationships are more important, odd, entertaining or terrifyingly interdependent as that between reporter and cameraman.
Yes, it is a bit like being married.
During the past 20 years on the road I have been lucky enough to work with, learn from, infuriate, cower in bunkers with, and depend utterly on some of the very best in the business.
For the past three years I've worked, almost exclusively, with one cameraman - and picture editor - Christian Parkinson. And today is his last day in the job.
From Mogadishu to Timbuktu, Harare, Misrata, Abidjan, Juba, Cape Town and beyond, Chris and I have donned our flak jackets, talked our way out of trouble, lugged gear, played street soccer, cajoled soldiers, raced for planes, trekked through jungles, taken fishing boats into besieged towns and armoured cars into besieged villages, and yes, downed one or two beers.
We reporters may like to pretend that it is the words that sometimes make our news reports memorable.
But the truth, of course, is that we are utterly dependent on the images - and the sounds - that Chris and his colleagues capture with those giant, unwieldy, expensive, all-too-breakable things they lug around on their shoulders.
And then, often squeezed in the back of a moving car, or in a dark, powerless shack somewhere deep in the countryside with deadlines looming, we depend again on their ability to edit the footage together on a laptop, and send the polished product by email, or satellite phone or dish, back to London.
Chris has a great eye, an amazing capacity for languages, a level head, and - except when he's hungry - a relentless, gregarious, good cheer.
It's been a blast.