Nigeria sees deadly 'Islamist battles' in north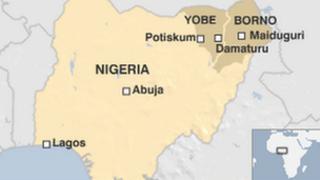 At least six people died overnight in clashes involving suspected Islamist gunmen in two northern Nigerian towns, sources have told the BBC.
The region's police commissioner said he believed Boko Haram militants were behind the fighting.
A police station was attacked in Potiskum and some residents of Damaturu spent the night sheltering in a school, where the clashes are ongoing.
Boko Haram have staged numerous attacks across northern and central Nigeria.
The group, whose name means "Western education is forbidden", often targets the security forces and state institutions.
'Lobbing grenades'
The police commissioner of Yobe state, Lawal Tanko, told the BBC the fighting erupted in the state's capital, Damaturu, on Thursday afternoon.
Eyewitnesses said it started in the town's centre, behind the emir's palace.
An eyewitness told BBC Hausa that residents were too scared to remain in their homes, and some were fleeing the town while others had sought shelter in a school and a mosque.
The police commissioner said on Friday morning that his forces were advancing on a building where they believed the militants were hiding.
Handmade grenades were being lobbed at his forces from the building, he said.
Another eyewitness in Damaturu told the BBC that he had seen military reinforcements entering the town on Friday.
Hospital sources in Damaturu told the BBC's correspondent in northern Nigeria, Abdullahi Kaura Abubakar, that one soldier had died in the fighting there and seven policemen and a young boy had been wounded.
In Potiskum, about 120km (75 miles) west of Damaturu, cars were burnt and a police station attacked by gunmen overnight. A source in Potiskum told the BBC that at least three policemen, one adult and a child had died in the fighting.
Mr Tanko said the situation in Potiskum was still tense, but the gunfire had died down by Friday morning.
On Thursday afternoon, there were also three explosions in the city of Maiduguri, in the neighbouring state of Borno, which has borne the brunt of Boko Haram attacks in the past few years.
The army taskforce spokesman in Maiduguri, Lt Col Hassan Mohammed, told the BBC there had been no casualties.
Boko Haram first came to prominence in 2009 when hundreds of its followers were killed when they attacked police stations in Maiduguri.
Its founder, Mohammed Yusuf, was arrested but died in police custody.
Boko Haram resumed its attacks - mostly in Maiduguri - a year later and has since staged deadly raids across the mostly Muslim north, as well as central areas such as Jos and Abuja.
Under Yusuf's leadership, the group demanded that Nigeria become an Islamic state but it is now believed to be made up of several factions, with various demands.