ICC frees Rwandan rebel Callixte Mbarushimana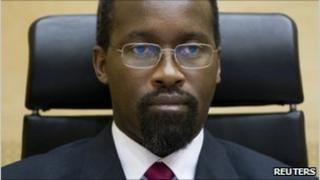 The International Criminal Court (ICC) has released a Rwandan rebel leader after judges ruled there was not enough evidence against him.
Callixte Mbarushimana, a Hutu rebel leader, had denied ordering his fighters to kill and rape civilians in 2009.
Mr Mbarushimana, a spokesman for the FDLR movement, is the first suspect brought to the court to be freed.
He has returned to France, where he has refugee status.
Earlier this month, the court said that "there was not sufficient evidence to establish substantial grounds" to believe that he could be held criminally responsible.
An appeal against this decision by the ICC's chief prosecutor, Luis Moreno-Ocampo, was rejected on Tuesday.
Mr Mbarushimana, 47, faced five counts of crimes against humanity and eight counts of war crimes, including charges of murder, torture, rape, inhumane acts and persecution, and destruction of property.
He was a senior member of the Democratic Forces for the Liberation of Rwanda (FDLR) operating in eastern DR Congo, whose fighters were widely believed to be responsible for hundreds of deaths and sexual assaults.