Sudan Darfur rebel Khalil Ibrahim killed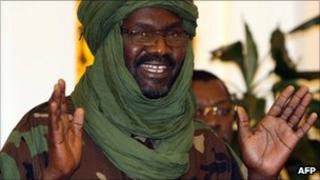 Darfur's main rebel group, the Justice and Equality Movement, has confirmed that its leader has been killed, but said it happened in an air strike.
Spokesman Gibril Adam Bilal said in a statement that Khalil Ibrahim and a guard died when missiles struck their camp at 03:00 on Thursday (00:00 GMT).
Mr Bilal said the missiles had been fired by a plane directed by a "spy".
Earlier, Sudan's army said Mr Ibrahim had died during clashes in the Wad Banda area of North Kordofan on Sunday.
Spokesman Sawarmi Khaled Sad said he had been trying to cross into South Sudan, which gained independence from the north in July.
"He was trying to sneak via North Darfur state and South Darfur state into South Sudan, but the armed forces prevented him from doing so by blocking all possible routes," Mr Sad told BBC Arabic.
But the Jem statement said Mr Ibrahim had died when missiles from an unidentified aircraft, "which were aimed with unusual accuracy for a fighter jet from the regime's army", struck his camp. It alleged that regional and international parties had colluded with officials in Khartoum.
The movement also promised to remain true to Mr Ibrahim's programme "to change the regime by all means, including military".
High-profile attacks
Mr Ibrahim founded the Jem and made it the most powerful and most heavily armed rebel group in Darfur.
He returned to Darfur from Libya this year after the fall of Col Muammar Gaddafi, who gave him sanctuary as well as military and financial aid.
The Sudanese government has accused Jem members of fighting alongside Gaddafi supporters during the uprising in Libya.
Attacks launched by the group include one on the capital, Khartoum, in 2008.
More than 220 people were killed when rebels drove across the desert to Omdurman, just across the River Nile from the presidential palace. Government troops eventually repulsed them after heavy fighting.
Just on Saturday, the Jem said they were planning a new advance.
The rebels signed a ceasefire with the Sudanese government in February 2010 but abandoned peace talks soon after, accusing Khartoum's forces of launching new raids in Darfur.
Some 2.7 million people have fled their homes since the conflict began in the arid western region, and the UN says about 300,000 have died.