South Sudanese 'massacred' after fleeing Pibor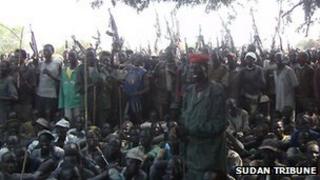 Scores of people have been slaughtered after fleeing attacks by fighters from a rival ethnic group in South Sudan, according to numerous reports.
John Boloch of South Sudan's Peace and Reconciliation Commission said at least 150 people, mostly women and children, had been killed over the past two days.
Another woman told the BBC that 20 of her relatives had been shot dead.
Some 6,000 fighters from the Lou Nuer ethnic group have been pursuing members of the rival Murle community.
This is the latest round in a cycle of violence which has lasted several months - in one incident last year some 600 ethnic Lou Nuer were killed.
The clashes began as cattle raids but have spiralled out of control.
The UN and South Sudan's army have sent reinforcements to the town of Pibor, which was attacked on Saturday, but they are heavily outnumbered and wary of being seen as favouring one community over another.
Politicians 'inciting violence'
BBC East Africa correspondent Will Ross says the area is so remote and dangerous it may be days until we get a real picture of the extent of the killings in South Sudan's Jonglei State.
The tens of thousands of displaced civilians are getting absolutely no help or protection, he says.
Mr Boloch, from the Murle community, said people who had fled Pibor had since been hunted down and killed near the River Kengen, south-east of Pibor.
"Children and women were massacred in that area - it was yesterday on the 2nd [of January], up to the 3rd," he told Sudan Catholic Radio News.
He accused local politicians of exacerbating the long-standing rivalries for their own ends and also asked why UN peacekeepers and the army were protecting government buildings in Pibor, rather than people.
"If the politicians are not refraining themselves from inciting civilians... there is no way of having peace in Jonglei state," he said.
He said that some of those taking part in the attacks were "young boys".
Another woman was in tears as she told the BBC that her mother had called to say that 20 family members had been shot dead on Monday - all women and children.
"They had fled Pibor before the fighters reached there. They were hiding about three hours' walk away by the River Kengen," she said.
"They had nothing to do with the earlier attacks on the Lou Nuer - they were innocent. Some of them had come from other parts of South Sudan for Christmas."
There are also reports that many people may have drowned in a river as they fled the attacks.
South Sudan is one of the world's poorest regions - it gained independence from Sudan in July 2011 and has hardly any roads, railways, schools or clinics following two decades of conflict, which have left it awash with weapons.
South Sudan's President Salva Kiir has called on the Lou Nuer to stop their advance and return to their traditional areas.
The government said it was deploying more troops and an additional 2,000 police to Pibor.
The Lou Nuer fighters arrived in Pibor on Saturday after marching through Jonglei state in recent weeks, setting fire to homes and seizing livestock.
The entire town of Lukangol was burnt to the ground last week. About 20,000 civilians managed to flee before the attack, but dozens were killed on both sides.
The governor of Jonglei state and the vice-president of South Sudan have been trying to mediate between the rival ethnic groups.