Nigeria fuel subsidy: Police tear gas Kano protesters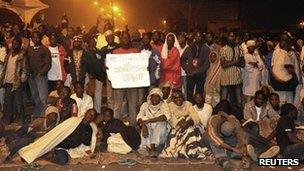 Nigerian police have used tear gas in the northern city of Kano to break up an overnight demonstration against the removal of a fuel subsidy.
Protesters say the police shot tear gas without warning and beat people in a crowd occupying a major roundabout.
A police spokesman told the BBC that officers only moved in after "hoodlums" started trouble.
Petrol prices have more than doubled since the government withdrew the subsidy over the weekend.
It has prompted countrywide anger and the main trade unions have announced an indefinite strike and mass demonstrations from Monday.
Nigeria is Africa's biggest oil producer, but imports refined petrol.
The BBC's Yusuf Ibrahim Yakasai in Kano said during Wednesday up to 2,000 people occupied the city's main traffic roundabout, renaming it Liberation Square.
Their aim was to stay in the square until the Nigerian government backtracked on its decision.
But protesters told the BBC that what started off as a peaceful demonstration suddenly erupted into violence in the early hours of Thursday morning, with about 300 injured.
"The police took cover and they started shooting tear gas into air and before we knew it they started hitting people," one of the organisers, Yusuf Idris Amoke, told the BBC's Network Africa programme.
"I was beaten by a stick, but with other people, guns were used on them."
"Everyone was running for his dear life; some people were falling; some people were taken unawares because they were sleeping," Mr Amoke said.
Kano police spokesman Magaji Musa Majiya disputed this version of the events, saying there were no beatings and no casualties.
Speaking to the BBC's Focus on Africa programme, he said the protest organisers had agreed to move out of the square.
The police were left with no option but to use tear gas to disperse people after they received reports that "some miscreants and hoodlums had started to infiltrate [the protesters] and take the law into their own hands", he said.
On Thursday, UK-based rights group Amnesty International called on the police to "immediately end excessive use of force" against protesters after one person was killed on Tuesday in Ilorin, Kwara state in a demonstration about the fuel subsidy.
Central Bank Governor Lamido Sanusi told the BBC on Wednesday that the subsidy - which he said cost the government about $8bn (£5.1bn) last year - was "unsustainable" for the government.
In December, the government released a list of the people who benefit most from the subsidy, which include some of Nigeria's richest people - the owners of fuel-importing firms.
Years of mismanagement and corruption mean Nigeria does not have the capacity to refine oil into petrol and other fuels.
Related Internet Links
The BBC is not responsible for the content of external sites.