Somalia MPs brawl over election of new speaker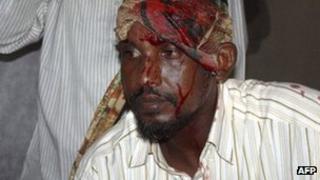 Somalia's government has launched an investigation after a punch-up in the parliament in the capital, Mogadishu, over the election of a new speaker.
Punches were thrown, MPs hit each other with chairs, some used pens to stab one another. Three were taken to hospital.
A new speaker was eventually voted in late on Wednesday, but the president has since denounced the election.
Somalia's interim government has international backing, but has faced criticism for its factional infighting.
With the help of African Union peacekeepers, it now controls Mogadishu but al-Shabab, which has links to al-Qaeda, runs many central and southern areas of the country.
The country has been convulsed by war for two decades and has not had a functioning elected national government since 1991.
Apology for 'irresponsible incident'
This is not the first time in recent weeks that fist fights have broken out in the parliament.
But BBC East Africa correspondent Will Ross says the latest brawl was even more violent than previous clashes.
The fight on Wednesday evening was started by supporters of Sharif Hassan Sheikh Aden, who was controversially voted out as the speaker last month.
His allies did not want a vote for a new speaker to be held.
President Sharif Sheikh Ahmed maintains that Mr Adan has the job so it is unclear who is currently the real speaker.
He said the election of Madobe Nunow was not legal as the peace deal which formed the interim government did not give the MPs the power to make such decisions.
Some analysts suggest the president is afraid he could be voted out.
On Thursday morning he chaired a security meeting about the parliamentary crisis, which "described the damage done to the parliament furnishings and equipment as something very unfortunate", a statement said.
The committee also "apologised to the Somali people about this irresponsible incident".
Last year, the UN Security Council warned the government to stop the infighting or risk losing the support it gets.
The government, which only controls Mogadishu thanks to the 10,000-strong African Union force, extended its terms last year until August 2012 by which time it must try and pass a constitution and prepare for inclusive elections.
Our reporter says the politicians are seen by many Somalis as corrupt - some have shown more desire to stay in office collecting their salaries than working towards the much delayed polls.