Nigeria fuel strikes: Your stories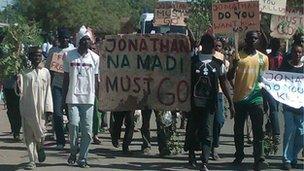 A general strike in Nigeria over the elimination of a fuel subsidy has brought the country to a standstill.
Most shops, offices, schools and petrol stations around the country closed on the first day of an indefinite strike called by unions.
Nigerians have been telling the BBC how higher fuel costs have been affecting their daily lives since the subsidy was cut in January.
Uche Madakulam, 28, in Lagos: How can I send my parents money?
I'm on strike today - nobody is going to work. The whole of Lagos is closed down.
I'm an apprentice in an IT shop and earn less than $3 (£1.94) a day. I'm living in the east of Lagos, about an hour away from the shop, and used to spend just under $1 a day to get to work.
Now I spend $2 on transport every day. Everybody I know has been using their savings just to survive since the price rises in January.
My parents still live in the village where I grew up and there's no electricity there. They have a generator but they can't afford to run it any more.
For four days now, they've had no light and they haven't been able to charge their phones, which have run out of battery.
I haven't been able to speak to them but a friend called me and told me to send them money to run the generator.
But how can I send them money now that I'm spending so much on transport?
The situation is very bad.
I'm a dentistry student and have to travel six hours to get to university.
I'm affected by the rise in fuel prices just like everybody else and if I just looked at my own situation, I'd be leading the protests.
But the strike is not constructive, Nigerians are being selfish. They are forgetting the future of their children.
If a child refuses to take medicine because of its bitter taste, the child might die. Running an economy with borrowed money is foolish - we need to make sacrifices to create a better country.
There's lots of corruption in Nigeria - people say they have no money so they pay no taxes and then buy PlayStations. We've got the largest community of smartphone users in Africa. Why can't we cope without the subsidy?
People don't trust the government because they don't want to make sacrifices. But yesterday's leaders had no vision.
It's time for us to build the Nigeria we dream of.
I was on the way to the office this morning and saw two vandalised cars.
I turned back and came home, for fear I might be attacked. I called all my employees and told them not to come in today.
We are usually open every day, even on bank holidays. We haven't shut for five years, but today our stalls are closed.
The rise in fuel prices has directly affected my business and if prices stay like this, I will have to help our employees pay for fuel.
Obviously, if I have extra costs, I'll have to reduce other costs and it might mean leaving staff at home.
I don't think the government can survive this because the city is at a standstill. They will need to make changes.
In Nigeria, the cost of governance is too high. The rich get richer by looting the treasury, especially those in the corridor of power.
But they then expect the masses to make sacrifices. Everything has doubled: the price of fuel, transport and food too.
The government should have removed the subsidy in two phases. They should have started to rehabilitate our existing refineries after the first phase, with the money they saved.
This would have convinced Nigerians that the government's intention is genuine. In turn, the masses would have had confidence in the government.
I'm strongly in support of the strike until our government learns how to respect the will of the people by coming up with policies for the poor.
Interviews by Silvia Costeloe