Minna riot: Nigeria curfew in Niger state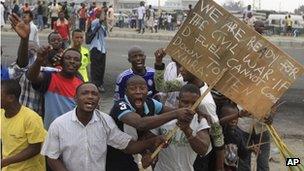 The Nigerian authorities have imposed a 24-hour curfew in Niger state after a crowd of youths went on the rampage, setting fire to buildings and cars.
The trouble in the state capital, Minna, came on the third day of nationwide strikes against a government decision to end fuel subsidies.
Trade unions representing Nigerian oil workers have threatened to boost the strike by shutting down oil production.
Nigeria is Africa's biggest oil exporter but it imports petrol.
After years of corruption and mismanagement, it has little capacity to refine crude oil.
Many poverty-stricken Nigerians see subsidised fuel as the only benefit they get from their country's oil wealth.
During the violent protests in Minna, hundreds of rioters set fire to government and political party offices and also targeted the homes of local politicians.
An office building belonging to former Nigerian President Ibrahim Babangida was among those attacked.
Shops were set on fire and a police spokesman told the BBC police officers were attacked by a group of youths.
One policeman was killed in Minna when an electoral commission building was attacked, say officials.
"The Niger state government has imposed a 24-hour curfew on all the 25 local government areas of the state as a result of the breakdown of order in Minna," said a statement from the Niger state authorities.
A curfew was imposed in neighbouring Kaduna state on Tuesday after angry protests in which thousands of protesters reportedly tried to force their way into a government office complex.
There have been demonstrations across Nigeria since the government announced the immediate ending of fuel subsidies on 1 January.
Petrol prices and transport fares have since doubled.
Nigeria's two main trade union organisations began their indefinite national strike on Monday, in spite of a court ruling that it was illegal.
They say the stoppage will continue until the government restores fuel subsidies.
Since the strikes began tens of thousands of people have taken to the streets around the country to protest about the price rises.
There have been big protests in the largest city, Lagos and also in Kano, the main city in northern Nigeria.
The demonstrations have resulted in violence in several places.
The unrest comes as President Goodluck Jonathan is trying to tackle a new wave of violence from Islamist insurgents.
The main unions representing oil workers have threatened to escalate its strike action to shut down oil production.
"Now that the Federal Government has decided to be callous minded, we hereby direct all production platforms to be on red alert in preparation for total production shutdown," the president of the Pengassan union, Babatunde Ogun, said in a statement.
He said oil workers had already stopped sending production reports to the government.
The other main oil workers union, Nupeng, has reportedly made a similar threat.
Some analysts have suggested that the union would not be able to halt production, but the authorities have expressed concern about the prospect.
"If they go ahead to carry out their threat, that action will worsen our economic problem which the government is trying to solve, this is why the government is calling on labour and the civil society to come for dialogue," Information Minister Labaran Maku told Reuters news agency.
President Jonathan says ending the subsidy will save the government $8bn (£5.2bn) a year, which will be put into public services.
Nigeria is Africa's biggest oil exporter and a major supplier to Europe and the United States.
Oil exports account for a large proportion of Nigeria's national income.