Nigeria fuel protests: Strike to continue despite talks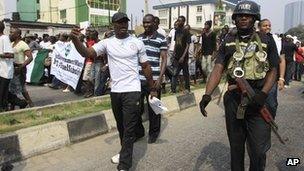 Nigeria's main unions say talks with the president over the removal of fuel subsidies were positive, but that strikes would continue.
The head of one of the largest unions said discussions had been "fruitful" and would resume on Saturday.
Unions have threatened to bring oil and gas production to a halt unless the government reinstates the subsidies.
Nigeria, Africa's biggest oil exporter, depends on the commodity for 80% of its state revenues.
Strikes over the move, which has doubled petrol prices, began on Monday.
Many poverty-stricken Nigerians are angry as they see subsidised fuel as the only benefit they get from their country's oil wealth.
But President Goodluck Jonathan, who announced the move on 1 January, says it will save billions of dollars which can then be put into public services.
Thursday's meeting was the first time Mr Jonathan had become directly involved since the industrial action began.
At least nine union representatives participated in the talks with the president, vice-president, finance minister, senate president and seven state governors.
"We had fruitful discussions, both sides have agreed to shift ground. We will be meeting again on Saturday," said Abdulwaheed Omar, president of Nigeria Labour Congress, one of the country's two biggest unions.
"Until we conclude the discussions, we maintain the status quo," he added, according to AFP.
The meeting came hours after the country's biggest oil workers' union Pengassan said it would aim to shut down the country's oil and gas production from Sunday, as part of the national strike.
"We are hereby notifying the Federal Government of Nigeria... that Pengassan shall be forced to go ahead and apply the bitter option of ordering the systematic shutting down of oil and gas production with effect from... 0000 hours of Sunday 15 January," it said in a statement.
While strikes this week have paralysed the country and brought tens of thousands onto the streets, oil workers have so far not moved to halt output of crude.
Some analysts have suggested that the unions would not be able to halt production, but the authorities have expressed concern about the prospect.
"If they go ahead to carry out their threat, that action will worsen our economic problem which the government is trying to solve," Information Minister Labaran Maku told Reuters on Wednesday.
Current stored supplies of oil are enough for only six weeks of exports, according to one analyst, if new production is halted.
President Jonathan says ending the subsidy will save the government $8bn (£5.2bn) a year.