Rwanda grenade case: Men with FDLR links found guilty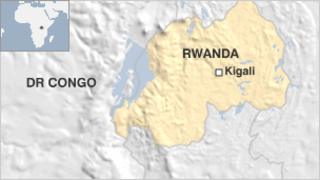 Twenty-two people have been found guilty of launching a series of grenade attacks around Rwanda, including the capital, Kigali, since 2008.
They include former soldiers who were accused of having links with FDLR Rwandan rebels in neighbouring Democratic Republic of Congo.
In their defence, some said they wanted to cause insecurity so the government would have to negotiate with the FDLR.
Some FDLR leaders are accused of links to the 1994 genocide.
Some 800,000 Tutsi and moderate Hutus were slaughtered in the 100-day slaughter which was orchestrated by ethnic Hutu extremists.
The FDLR is a Hutu militia made up of former Rwandan soldiers and others who poured over the border into eastern DR Congo after the Tutsi-led Rwandan Patriot Front (RPF) captured Kigali and put an end to the killing.
Prosecutors had charged a group of 30 with terrorism, murder and disrupting state security in connection with the grenade attacks.
They had requested life imprisonment for 24 of the accused men, all of whom were Rwandan citizens.
The BBC's Prudent Nsengiyumva in Kigali says 10 of the accused did get life terms, eight people were found not guilty and the others were given lesser sentences.
They were tried before three judges - only four of the accused had lawyers, while the others had to defend themselves.
Our reporter says none of the defendants were present for the verdict, but the courtroom was packed with their relatives.
When the judgements were read out, some of the families cheered with relief, while others were in tears, he said.
Last year, several former senior RPF leaders and one-time allies of President Paul Kagame - who now live in exile - were found guilty in absentia of having links to grenade blasts.
They say the government has been implicated in some of these periodic attacks as a pretext to crack down on the political opposition.