Nigeria fuel prices: Weekend talks fail to reach deal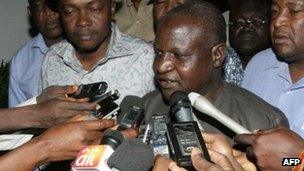 The latest round of talks between Nigeria's president and trade unions has ended with no sign of a compromise over the removal of fuel subsidies.
The unions said they had decided to call off street protests due to security concerns, but warned that a week-long general strike would go on.
President Goodluck Jonathan had been due to make a TV address, but this is now expected later on Monday.
The fuel subsidy was removed two weeks ago, leading to a doubling of prices.
The strike has already cost the economy billions of dollars in lost revenue.
The talks between President Jonathan and the trade union leaders ended late on Sunday, with neither of the sides discussing the outcome in detail.
But later Nigeria Labour Congress president Abdulwaheed Omar told Channels TV: "We came to a conclusion that we will stay at home, that is stay off the streets, in order to make sure that we don't in the first instance endanger innocent lives because of the security situation in the country."
He was apparently referring to a series of recent deadly sectarian clashes across the country.
But Mr Omar stressed that the nationwide strike - which was suspended for the weekend - would resume on Monday.
It remains unclear whether oil workers will join in, as they had threatened to do if no deal was reached.
A strike in the oil sector could affect the international oil markets because Nigeria is the sixth largest producer of crude oil in the world, the BBC's Mark Doyle in Abuja reports.
The removal of subsidies from 1 January caused petrol prices to more than double - from 65 naira ($0.40; £0.26) to 140 naira.
It was a devastating blow to the large number of Nigerians who live in absolute poverty, our correspondent says.
The authorities say the subsidy was costing the equivalent of more than $8bn a year, arguing that the money would be better spent on infrastructure and social services.
Oil accounts for some 80% of Nigeria's state revenues but after years of corruption and mismanagement, it has hardly any capacity to refine crude oil into fuel, which has to be imported.
Related Internet Links
The BBC is not responsible for the content of external sites.