Could drought threaten South Africa's rooibos tea?
By Pumza Fihlani
BBC News, Suid Bokkeveld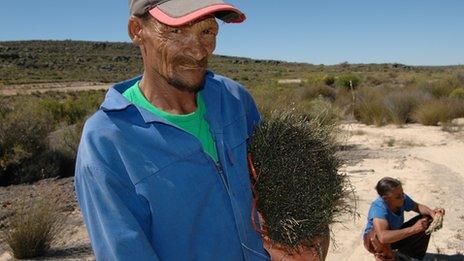 The world has developed a taste for South Africa's rooibos tea in recent years, mainly because of its perceived health benefits.
Annual exports have quadrupled since 1999 to 8,000 tonnes, proving a rare lifeline for residents of the harsh Suid Bokkeveld region where it grows.
But the tea only grows in this small area and erratic weather patterns - blamed by some on climate change - mean the plant and the new industry are now under threat.
Small-scale farmer Jan Fryer, 53, has been growing rooibos on a communal farm for the past seven years.
Despite growing tea for more than 20 years, Mr Fryer says the new climate rhythm has made him something of a novice in the field.
"The temperatures are definitely getting hotter and because of this is it more difficult for the rooibos plant to grow," he says.
"The soil becomes too hot and the root of the plant burns and dies making the seedlings wilt and die before they even get a chance to become proper plants. We've had to change how we plant because of this."
The Suid Bokkeveld has always been a tough place to live - temperatures drop to 0C during winter and rise to a scorching 48C in the height of summer.
But farmers say rooibos has become increasingly difficult to work with in recent years.
As a result the planting season has changed from June-July to November, says Mr Fryer.
Poverty and unemployment are high in the region, making tea farming one of the few sustainable industries. As a result the art of producing the drink is passed on from generation to generation.
The industry is labour-intensive and provides about 4,500 jobs with a lot of work done by hand mainly by non- or semi-skilled workers.
Drieka Kortze, 50, is a member of a local business known as Heiveld which produces, packages and exports the tea.
"I'm able to make my own money now and take care of my children. I don't have to worry about where my next plate of food will come from," she says.
The word rooibos is Afrikaans for red bush - a reference to the stems of the plant which have a reddish colour.
The main foreign markets for the herbal tea are the UK, Germany, Netherlands, the US and Japan, according to the Department of Agriculture.
In 2000, about 4,500 tonnes of the leaves were sold abroad, more than twice the amount for 1999 and exports have now doubled again.
With a heritage as rich as its taste, the brew was discovered centuries ago by South Africa's indigenous KhoiSan people, who used it as a herbal remedy for various ailments.
This fragrant red tea has become a popular drink around the globe not only because of its sweet nutty taste, but because of its many health benefits.
Rooibos contains a wealth of minerals, such as zinc, copper, calcium, magnesium and potassium and its proponents say it can act as a digestive aid and an anti-viral.
"Its reputation is slowly spreading around the world. This is, of course, good news for the farmers producing it in this region," says Noel Oettle of Environmental Monitoring Group (EMG), based in the Suid Bokkeveld's main town, Nieuwoudtville.
EMG is helping rooibos farmers adapt to the changing weather patterns through natural resource management, monitoring the climate and soil and water conservation.
Rooibos is particularly vulnerable to changes in the weather as it only grows in about 20,000km sq of the Suid Bokkeveld due to the region's biodiversity. The herbal plant needs specific bacteria and fungi to be present in the soil as well as certain bees and wasps which are only found here.
"There are at least 11 species of solitary bees and three species of wasp which are found in this region only, without those insects, pollination cannot happen," says Mr Oettle.
But there are two types of the plant - cultivated rooibos and wild rooibos.
Wild rooibos has flourished in the region for many centuries and only recently became a commercial product.
With a stronger taste, this more exotic tea fetches a higher price on the local and international markets.
But in 2003 the area was hit by a severe drought, which lasted for three years.
More than half the cultivated rooibos was destroyed; it was the wild plants which helped sustain the industry.
"During the drought it became important for us to teach farmers to shift their focus from farming cultivated rooibos to wild rooibos, which proved more resilient to drought and changing conditions," says Mr Oettle.
Today environmentalists warn that a similar drought is on the cards in the next few years. They say the future of this herbal brew is squarely in the hands of the farmers.
"The long-term prosperity of rooibos farmers will depend greatly upon the farmers' ability to change their farming practices to these new weather conditions," says Mr Oettle.
"It is a matter of adapting to the changes we see."
Farmers have also moved from planting rooibos seedlings to planting seeds directly into the soil. While they take longer to germinate, seeds are more resilient and stand a better chance of yielding any kind of harvest, experts have told farmers here.
"We have no choice but to listen to what the weather tells us. If we don't our industry is doomed," says Mr Fryer.
Related Internet Links
The BBC is not responsible for the content of external sites.