Nigerian fuel strike: Your views
By Elisabeth Ukanah
BBC News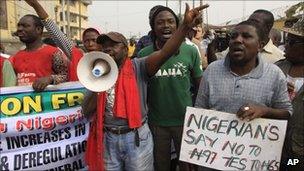 Nigeria's trade unions have announced that they have suspended their week-long strike against the rise in fuel prices.
The announcement followed talks over the weekend that led President Goodluck Jonathan to announce a cut in petrol prices.
BBC News website readers in Nigeria have been giving their reaction to the news, as Elisabeth Ukanah reports.
Kingsley Izevbigie, Lagos
The protest over fuel subsidies was merely the symptom of a wider problem.
Political paralysis, a stagnant economy, plundered public funds and a poor sewage infrastructure has crippled Nigeria, one of West Africa's most populous countries.
The slow, often haphazard, response by the government worsened the situation. Few expected the protesters to succeed. But it was wonderful to see that thousands of people, mostly the young, were still prepared to take to the streets.
For many, the damage inflicted on ordinary Nigerians outweighed concerns about reprisals.
Spiralling fuel costs have affected everyone. The poorest have been hardest hit. Much of the population depends on petrol. Fuel powers our generators which in turn heats our homes, our stoves and other electrical appliances.
Our archaic public transport system ground to a halt following the protests. Convoys of parked vehicles lined the streets where their owners abandoned them.
People found it difficult to travel to work. Some children set off from home, walking miles to school. Others remained at home.
Basic commodities and food staples have doubled in price. I live in Lagos, a crammed bustling city where people jostle daily for space and resources.
Here, the poverty can be crushing. The cheapest drinking sachet "Pure water" has doubled from five to 10 naira. The average earned by some people is less than $2 a day.
If the authorities are committed to a root and branch reform of our system of governance then they must first invest in our rural and urban areas and tackle corruption.
The reintroduction of subsidies is a small concession by the authorities and should be viewed as such. It is a small, incidental u-turn.
The scale of the corruption and cronyism is mind boggling. In the past, oil revenues routinely disappeared from state coffers.
Now, there is an overwhelming sense that not much has changed and worse may be still to come.
Petrol, our most valuable commodity, is only available to the highest bidder. Even before protests swept our country, people queued for hours clutching jerrycans. In some areas the lines could stretch for miles.
Weeks before the unrest sellers, sensing demand would increase, began siphoning petrol and diesel.
My family now buys all our fuel on the black market. Demand is high and prices are exorbitant but without another energy supplier we have no choice.
The authorities, weak or unconcerned, turn a blind eye. It is ordinary people who have to learn how to be resourceful in order to survive.
People are incandescent with rage and very few have any confidence in the government. The economic impact of this strike is among the most critical challenges facing the country.
In the short run, the demonstrators achieved everything they set out to accomplish. They forced the government to back down and reconsider their ill-conceived policy.
The protesters frustration mimicked the discontent that we all feel.
In the long run, the implications for President Goodluck Jonathan's government are huge. Mr Jonathan was elected on a wave of optimism and now that goodwill has been depleted.
Nigerians want economic growth in their future. If this government can not deliver it Nigerians will chose another administration that will.
Chinagorom Kalu, Port Harcourt
Our society remains in deep trouble and we are a long way from reaching our development goals.
The headlines about the demonstrations in Nigeria do not begin to convey the real problems this country must overcome.
While protesters marched with banners aloft, the cost of food soared. As the president assembled his officials to debate the remedies for the unrest, our household budget was halved.
My wife and son had to adjust to new and challenging financial constraints. I want a better future for my family.
The majority of Nigerians are poor but hard-working and above all resilient.
It is astounding that a country with a rapidly expanding oil industry is unwilling to use those financial proceeds to ensure all it citizens have clean running water, constant electricity and tarred and maintained roads.
Our state should be able to guarantee that every child has access to a good education as well as a state of the art health service.
Our political elite should not be allowed to squander public funds with impunity or be shielded by the law.
Nigeria produces gallons of crude oil and liquefied natural gas that is shipped to nations across the world. This country makes billions of dollars every year. Where does the money go?
Are we too populous that we are incapable of managing our own affairs? The United States occupies a large land mass and yet its citizens can expect their legislature to perform basic duties.
In Nigeria we are still waiting for this form of government.