Chevron Nigeria oil rig fire: Two missing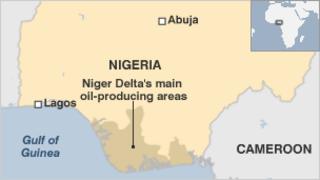 Two workers are missing after a fire broke out on an oil drilling rig in waters off the Niger Delta in south-east Nigeria.
The fire is still blazing and 152 employees have been evacuated onshore for medical tests.
Production in a nearby platform has been suspended but Chevron - the US company that owns the rig - said there has been no oil spillage.
Nigeria is Africa's largest oil producer.
The BBC's Mark Lobel in Lagos says residents heard a loud explosion as the KS Endeavor exploration rig was engulfed in flames.
A major build-up of gas pressure from drilling caused the explosion in the gas exploration well, according to the Nigeria's state run oil company.
Chevron says it is still investigating the cause of the incident.