Abducted Algeria governor Mohamed Khelfi freed in Libya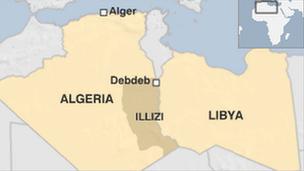 A senior Algerian official has been freed after being kidnapped close to the Libyan border, according to Algeria's state news agency APS.
Mohamed Laid Khelfi, governor of the Illizi region in southeast Algeria, was abducted by three armed men on Monday afternoon near the town of Debdeb.
He was released inside Libya 24 hours later and is to be handed over to Algerian officials soon, APS reports.
No group has yet said it carried out the abduction.
There have been concerns that continuing unrest and arms proliferation in Libya could undermine regional security, giving militant groups safe haven and arms supplies.
The Algerian government has not said whom they suspect of carrying out the kidnapping, but security sources, speaking anonymously, say that al-Qaeda's North African branch are responsible, the BBC's Chloe Arnold in Algiers reports.
Our correspondent adds that the governor is the most senior government official to have been taken hostage in Algeria for several years.
Mr Khelfi had been in Debdeb to talk to protesters, some of whom are believed to have been relatives of Abdelhamid Abu Zeid, a prominent figure in the regional branch of al-Qaeda.