A different take on Africa's year ahead...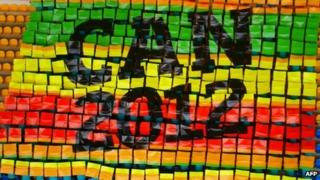 This year, no tea-leaves, no "muti" or traditional medicine, no entrails or astrology and none of the usual stuff about elections, wars and dying politicians.
Instead, my predictions for 2012 deal with more every-day matters. Sorry they are a bit late, but if you like them, or hate them, or have infinitely better suggestions - please write in, and we can get together again in 2013 to compare notes.
Incidentally, how do you think my sangoma's forecasts for 2011 came out?
So, in 2012....
A consortium of well-connected Angolans will purchase Portugal's Benfica football club
The phrase "African middle class" will appear in more international headlines than "famine"
Guinea will win the Africa Cup of Nations (they are my pick in the office sweepstake)
An international chain will open a store in Somalia's capital, Mogadishu. For several weeks
The number of Chinese language schools in Nigeria will quadruple
The number of Africans living below the "poverty line" will drop from 61% to 57%, but almost nobody will report the fact
Someone will coin a new name for Africa's middle class - which will be 400-million strong by the end of the year. The phrase will come from Mandarin
A catchy song about malarial bed-nets will become an unexpected hit in Zambia, and a star of South Africa's undervalued poetry scene will be sampled by US rapper Jay-Z
An unemployed Spanish woman, seeking work in Mozambique's capital Maputo, will be disqualified from winning a local beauty pageant
Zimbabweans will stop accepting the euro as currency
The continent will win more medals at the Olympics than ever before but four African athletes will get lost on the London underground system and miss their heats.