Mali army clashes with ex-Gaddafi Tuareg fighters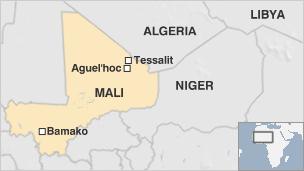 Tuareg rebels - once part of Col Gaddafi's Libyan security forces - have attacked two more towns in the north of Mali, in a second day of fighting.
A Mali army spokesman confirmed the clashes on Wednesday with the newly formed National Movement for the Liberation of Azawad (NLMA).
For two years, the government and the Tuareg have been at a relative peace.
The rebels are calling for an autonomous Azawad region in Mali's northern desert.
The BBC's Martin Vogl, in the capital, Bamako, says that these new rebels are heavily armed and well-trained fighters.
They returned to Mali after Libya's uprising - after spending years fighting for Col Gaddafi, who was overthrown and killed by rebel forces last year.
The NMLA say they are in control of the north-eastern town of Aguel'hoc and are fighting for Tessalit.
The army spokesperson confirmed the fighting but would not give further details.
Our reporter says if the rebels manage to take Tessalit it would be a hugely significant. It is one of the biggest military bases in the north of Mali and elite unites of Malian troops are based in the barracks there.
On Tuesday, the town of Menaka, near Mali's border with Niger, also came under attack.
Both Mali's army and the rebels claim to be in control of Menaka - but our correspondent says he is unable to independently verify.
The Tuareg are a nomadic community who mostly live in northern Mali, northern Niger and southern Algeria.
Mali's Tuaregs have long complained that they have been marginalised by the southern government and have staged several rebellions over the years.