Rwanda: Top army officers arrested for 'indiscipline'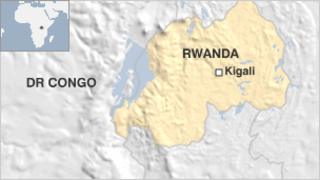 Rwanda has suspended and put under house arrest four of its top military officers, an army spokesperson says.
They are being investigated over "acts of indiscipline" concerning alleged business dealings in mineral-rich Democratic Republic of Congo.
One of those arrested is the military intelligence chief, who has also advised President Paul Kagame on security issues.
Rwanda has denied past accusations that it plundered DR Congo's minerals.
The BBC's Prudent Nsengiyumva in the capital, Kigali, says the arrests come as a shock to some in Rwanda considering how senior the men are.
Our correspondent says the house arrests may be seen as a signal that no-one is above the law.
Those arrested are Lt Gen Fred Ibingira, chief of staff of the reserves force; Gen Richard Rutatina, the head of military intelligence; division commander Gen Wilson Gumisiriza, and Col Dan Munyuza, external intelligence chief.
Rwanda has twice invaded DR Congo saying it was fighting rebel groups based there - but its army has been accused of looting minerals during the conflict in which an estimated five million people died.
In the last two years, several close military allies of Mr Kagame have gone into exile where they have been critical of his authoritarian style of rule.