Dozens of Tuareg rebels dead in Mali clash, says army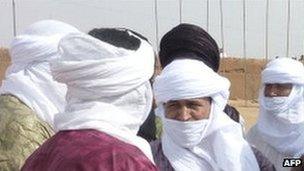 Forty-five Tuareg rebels have been killed in two days of fierce clashes with Mali's government troops, the country's military says.
It says that two soldiers also died in the fighting in the vast desert area of northern Mali.
Some of the rebels have returned from Libya where they had been part of Col Muammar Gaddafi's security forces.
The Tuareg are calling for an autonomous Azawad region in the north of Mali.
"The attackers suffered heavy losses," Mali's defence ministry said in a statement on Thursday.
It said several vehicles were destroyed during the clashes, and three towns in the desert - including Tessalit and Aguel'hoc- were now under the army's control.
At least eight people - including government troops - were injured.
The rebels were members of the the newly formed National Movement for the Liberation of Azawad (NLMA), the ministry added.
The rebels have not publicly commented on the statement.
The BBC's Martin Vogl, in the capital, Bamako, says that these new rebels are heavily armed and well-trained fighters.
They returned to Mali after Libya's uprising - after spending years fighting for Col Gaddafi, who was overthrown and killed by rebel forces last year.
This week's clashes ended several years of fragile peace in the region.
The Tuareg are a nomadic community who mostly live in northern Mali, northern Niger and southern Algeria.
In Mali, they have long complained that they have been marginalised by the southern government and have staged several rebellions over the years.