Nigeria attacks: What Boko Haram assault means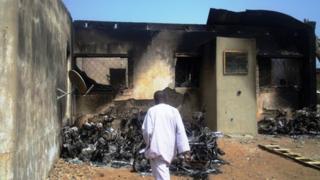 Some thoughts on the implications of the devastating Kano bombings:
- Boko Haram has shown, once again, that it keeps its promises. It warned several months ago that it would react violently if its jailed members were not released. "These are people who live up to their word," Nigerian human rights activist Shehu Sani told me.
- The scale and coordination of the attacks reveal an organisation growing in confidence and ambition, and seemingly committed to a long-term insurgency.
- The Nigerian authorities - routinely accused of mishandling and fuelling the insurgency through the heavy-handed actions of security forces - have reportedly allocated 25% of this year's national budget to defence. Many here fear that a strategy of confrontation, rather than dialogue, will condemn the region to long-term instability.
- Claims that Boko Haram have received training from Somalia's Al Shabaab have been given added strength by the sophisticated nature of the operation.
- Boko Haram may be a murky organisation with a range of targets and agendas - it has attacked Christians and the United Nations in recent months - but its main focus remains "the establishment" and the police in particular, which it blames for the 2009 killing, while in custody, of its former leader.
- There is a widespread belief that sympathetic elements in the security forces are, at the very least, cooperating with Boko Haram. It remains difficult to know how true that is, and how much is paranoia/propaganda.
- It's hard to gauge the level of public support the group enjoys. Millions in the north may share its goal of an Islamic state, but precious few have endorsed its violent tactics and many moderate Muslims have been targeted by it.
- Prominent Muslim groups and local politicians have publicly condemned the attacks. However, many commentators believe those same people are content to sit on the side-lines, knowing that the violence puts extra pressure on a central government widely accused of favouring the south of the country over the predominantly Muslim north.
- Nigeria seems unlikely to become an Islamic state. Warnings of disintegration also seem exaggerated. But Boko Haram has evolved into a serious security threat far more quickly than many had anticipated. Still, some analysts still feel President Jonathan may be misreading or exaggerating the group's strength for his own political/tribal purposes.
- All this has badly shaken Nigeria. But this is still a dynamic, developing democracy with a booming economy and plenty of reasons for optimism