Zambia: President Sata reverses Libyan Zamtel sale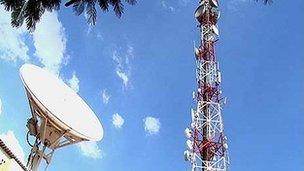 Zambia has seized control of the country's biggest telecoms company - sold to a Libyan investor two years ago by the previous government.
A government enquiry ruled in November that the sale of a 75% stake in Zamtel to LAP GreenN was fraudulent.
President Michael Sata - who came to power promising a corruption crackdown - has promised no job losses at Zamtel.
LAP GreenN categorically denies any wrongdoing, saying it is "deeply worried" by the reversal of the sale.
Zamtel is one of three mobile phone networks in Zambia - alongside Airtel of India and MTN of South Africa.
It is the only operator of landlines and also provides internet services.
There has been no disruption to Zamtel services following the compulsory acquisition by the government on Thursday.
President Sata - who unseated his predecessor Rupiah Banda in elections last year - had pledged to reverse a number of sell-offs by Mr Banda, which he says failed to serve the Zambian people.
As well as undoing the $257m (£165m) Zamtel deal, Mr Sata has also reversed a $5.4m (£3.5m) sale of a commercial bank, Finance Bank Zambia, to South Africa's First Rand Group.
Zamtel's bank accounts were frozen last week as part of a money-laundering investigation.
LAP GreenN - which is the telecoms investment arm of the Libyan African Portfolio - rejects allegations of corruption when it bought a majority stake in Zamtel in 2010.
"Our acquisition was made through an open, transparent and competitive bidding process," the company said in a statement on Thursday.
"Under our ownership, Zamtel has moved from a state of near insolvency to become a national success story," the statement adds.
LAP GreenN says it has grown Zamtel's subscriber base by over 600% in just over 18 months and created 1,700 jobs.
Mupanga Mwanakatwe, an Airtel executive, has been appointed as Zamtel's chairman and acting chief executive office - and a new board will be put in place soon, according to a statement from the Zambian presidency.
Related Internet Links
The BBC is not responsible for the content of external sites.