Kenya ICC: Kenyatta resigns from finance role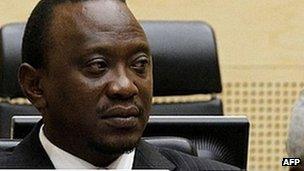 Kenya's Finance Minister, Uhuru Kenyatta, has resigned following a ruling that he will face trial for crimes against humanity.
It comes days after the International Criminal Court (ICC) ruled that he should face prosecution over post-election violence in Kenya in 2008.
But he will remain deputy prime minister, according to a statement issued by President Mwai Kibaki.
The cabinet secretary, Francis Muthaura, has also stepped down.
The pair are among four prominent Kenyans named by the ICC, who all deny their roles in the post-election violence of 2007-2008.
The attorney general had said they did not have to resign, stating their future would be decided after the outcome of their appeal to stop the International Criminal Court trial from going ahead.
Mr Kenyatta, son of Kenya's founding President Jomo Kenyatta and a man who has been ranked as one of its richest citizens, is accused of crimes against humanity, including murder and persecution. Mr Muthaura faces the same charges.
The pair are allies of President Kibaki, who appealed for people to stay calm after the ICC ruling confirming the charges.
Activists had been campaigning for them to be barred from public office.
A BBC correspondent in the capital, Nairobi, said it was not clear whether Mr Kenyatta would abandon his presidential ambitions.
More than 1,200 people were killed in weeks of unrest between December 2007 and February 2008 and some 600,000 people were forced to flee their homes. Many still remain homeless.
The violence began as clashes between supporters of the two rival presidential candidates - Raila Odinga and Mr Kibaki - but it snowballed into a bloody round of score-settling and communal violence.
Former Education Minister William Ruto and radio presenter Joshua arap Sang, who opposed Mr Kibaki in 2007, are also to stand trial in a separate case.
Related Internet Links
The BBC is not responsible for the content of external sites.