German engineer kidnapped in Kano, Nigeria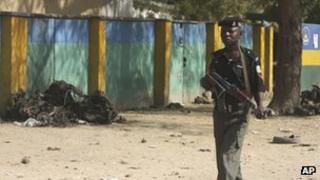 A German engineer has been abducted by gunmen in the city of Kano in northern Nigeria.
Police are searching for the kidnappers but it is not known who was behind the incident on Thursday morning.
Gunmen are reported to have handcuffed the man and bundled him into the boot of a car.
A heavy security presence and overnight curfew are in place in Kano after last Friday's deadly attacks when more than 185 people were killed.
Islamist militant group Boko Haram has denied killing civilians in the bombings, but acknowledged carrying out attacks on police stations and other official buildings.
In a message posted on YouTube, Abubakar Shekau blamed the deaths of "innocent civilians" on Nigeria's security forces.
Nigeria's authorities deny the allegations.