Ethiopian PM Meles Zenawi says troops to leave Somalia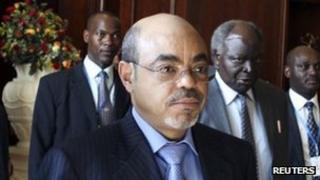 Ethiopian Prime Minister Meles Zenawi has said he will withdraw his troops from Somalia once African Union forces are there.
"We expect the Amisom [African Union] troops to be able to fill in the gaps before we withdraw," he said in Addis Ababa.
Ethiopia sent troops into Somalia in October in pursuit of al-Shabab militants.
It had previously denied having troops in the country.
Ethiopian forces took the strategically important central town of Beledweyne from al-Shabab in December. On Tuesday Islamist militants launched a suicide truck bomb attack on an Ethiopian military base in the town.
Ethiopia sent troops to Somalia in 2006 to oust Islamist forces but withdrew in 2009 after suffering heavy casualties. Its presence then was controversial as the two countries had previously fought a war.
Somalia has not had a functioning central government for more than 20 years and has been wracked by fighting between various militias.
The UN-backed interim government only controls the capital thanks to the African Union force in Mogadishu.
The al-Qaeda-linked al-Shabab group, which has imposed strict Sharia law in areas it controls, announced a "tactical withdrawal" from Mogadishu in August last year after fierce fighting with AU forces.