Nigerian Sani Abacha aide Mustapha appeals over hanging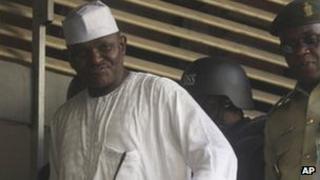 An aide to former Nigerian military ruler Sani Abacha has appealed against his hanging sentence for killing the wife of politician Moshood Abiola.
Lawyers for Major Hamza al-Mustapha lodged papers in a Lagos courtroom on Tuesday.
Mr Mustapha, Abacha's former security chief, who has been detained since 1999, says he is innocent.
Abiola's wife, Kudirat, was shot dead in 1996 - three years after he was widely believed to have won elections.
Mr Mustapha's lawyers say the 13 years he has spent in prison is an "injustice".
After the 1993 elections were annulled and Abacha seized power, Abiola declared himself president and was charged with treason.
Abacha and Abiola both died in 1998, paving the way for the end of decades of military rule the following year.
One of Abacha's sons, Mohammed, was also accused of links to the killing of Kudirat Abiola but was cleared in 2002 after three years in detention.