Senegal anti-Wade protest: One demonstrator dies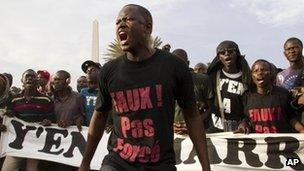 At least one person has been killed in the Senegalese capital during a demonstration against President Abdoulaye Wade's re-election bid.
Police and thousands of opposition supporters clashed in the centre of the city on Tuesday evening.
Tear gas was fired and one student died when he was run over by a truck.
Earlier in the week, two people were shot dead during protests in a northern town after a court ruled that Mr Wade's third-term election bid was legal.
Elections in the West African country - often held up as one of Africa's model democracies - are due on 26 February.
Senegal's Red Cross told the BBC French Service that Mamadou Diop, a 32-year-old student at Cheikh Anta Diop University, died after a water cannon truck ran him over.
Several other people were also wounded after they were run over by vehicles, some people suffered severe asthma attacks because of the tear gas and one man had been visibly beaten, the medical aid group said.
Eyewitnesses reported that a young girl selling water at the protest tripped and fell, and is now severely wounded.
The BBC's Maud Jullien in Dakar says Senegal's Foreign Minister Madicke Niang expressed sadness and compassion for the deceased man and his family and wished those who were wounded a prompt recovery.
But at a press conference on Wednesday, he said the police had restored order after being provoked by "people promoting violence in Senegal".
The opposition June 23 Movement (M23) had organised the demonstration and has sworn a campaign of "national resistance" until Mr Wade rescinds his candidacy.
This will probably not happen, according to George Ajjan, a political analyst in Dakar.
"Protests can only accomplish so much," Mr Ajjan told the BBC Network Africa programme.
"It is unlikely that Mr Wade will step down just because he sees some people out on the streets," he said.
Once a veteran opposition leader himself, Mr Wade, 85, was first elected in 2000 - ending 40 years of rule by the Socialist Party.
Senegal's constitution has a two-term limit but the constitutional court has ruled this does not include Mr Wade's first term, which began before the clause was adopted.
At the same time as allowing Mr Wade to stand, the court ruled singer Youssou N'Dour and two other opposition candidates could not run.
There has been international criticism of the ruling amid warnings that Senegal's long-standing record for democracy and political stability could be jeopardised.
Nigeria's former President Olusegun Obasanjo - himself a failed third-term bidder - told the BBC that "fear of the unknown" made leaders like Mr Wade hang onto power.
"But there is life after the government house - as I have found," the former president told Network Africa.
On Tuesday, UN Secretary-General Ban Ki-moon said Senegal's authorities "must act in a manner that preserves and consolidates Senegal's democratic traditions".
He also urged political parties to refrain from violence.
Mr Niang said Senegal did not need democracy lessons from anyone - saying the government was committed to free speech and organising free and fair elections.
Earlier, Mr Wade's campaign spokesman, Amadou Sall, told the BBC if opposition supporters do not want Mr Wade as president they should vote in the forthcoming polls.
"Every five years the Senegalese citizens have the right to express themselves… on 26 February if they decide they don't want no more Abdoulaye Wade for president, Abdoulaye Wade will not be president, so it's all in their hands," he said.
Related Internet Links
The BBC is not responsible for the content of external sites.