Zambia arrest warrant for ex-leader's son Henry Banda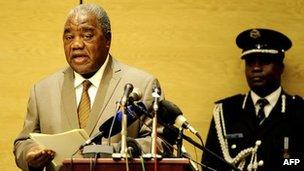 Zambian police have issued an international arrest warrant for a son of ex-President Rupiah Banda - after he failed to come forward for questioning.
Henry Banda is wanted so that he can "answer allegations of corruption", Zambia's police chief told the BBC.
Martin Malama did not give any further details, but confirmed the warrant had been issued to all members of the international police agency Interpol.
Kenya's foreign minister has denied reports that Henry Banda is in Kenya.
Moses Wetangula told the BBC that the former Zambian president's son had made various visits to the East African country over the past few months, but was not in Kenya at the moment.
Rupiah Banda stood down as president last year after Michael Sata won presidential elections.
Mr Malama said his officers have been looking for Henry Banda for a few months and his whereabouts were unknown.
Related Internet Links
The BBC is not responsible for the content of external sites.