Our man in Mogadishu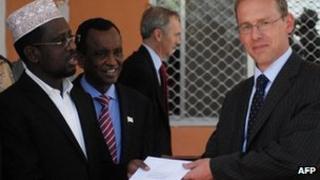 "My family? They've got used to it, over the years," said Matt Baugh - the first British ambassador to Somalia in 21 years. "There's a degree of concern, and a degree of pride."
After a diplomatic career that has taken him to Iraq, Sierra Leone and the Balkans, Mr Baugh has just presented his credentials in Mogadishu to President Sheikh Sharif Ahmed - the head of Somalia's fragile transitional government.
"That was my third visit in 10 days," said Mr Baugh, safely back in Nairobi. "There are real opportunities in Mogadishu - signs of confidence. There are more people on the streets, more traffic, more bustle that a year ago we didn't see. This is a significant moment."
With a major international conference on Somalia in London later this month, growing interest in the country's northern oil fields, and cautious optimism in the air, Britain appears keen to take a lead role in the latest attempts to rescue the world's "most failed state."
And yet nothing underlines the enduring instability in Somalia than the fact that the British embassy will, for the indefinite future, remain based out of neighbouring Kenya.
The UK already has "a facility" at the heavily guarded base for the African Union Mission to Somalia (Amisom) at Mogadishu airport, and Mr Baugh said that would expand "in the very near term" to allow more embassy staff - political, development, defence - to be "based for longer and more frequently" in the city. "There's growing recognition of the importance of Somalia. We have committed to reopen the embassy as soon as local conditions allow," he said.
Britain is lagging behind Turkey, Ethiopia and a handful of other countries that have already reopened their embassies in Mogadishu.
The old British embassy building in the bullet-scarred city centre was badly damaged by a fire some years ago. It was leased from the Somali government and it's not clear if Britain would attempt to return to the same site. "The plot may not be big enough for the aspirations we have," said Mr Baugh.
Although the militant Islamist group, al-Shabab, has recently been pushed out of the city by Amisom, it continues to launch suicide attacks. Equally troubling is the threat posed within the city by various rival militias, loosely controlled by the weak, corrupt and divided Somali transitional government. Mr Baugh said that securing extra funding for Amisom, and persuading the Somali government to give "more attention" to their own security forces, would be key priorities at the London conference.
For now, Mr Baugh will continue to shuttle between Somalia and Kenya, leaving his three young children in Nairobi. "This is a firmly unaccompanied post," he said.