Uganda and Tullow sign deal to start oil production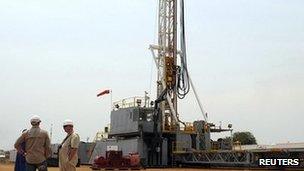 Uganda's government has signed production agreements with the London-based company Tullow oil.
The deals pave the way for a $10bn (£6bn) investment in a refinery and crude oil export pipeline.
Tullow will sell two-thirds of its interest in the Lake Albert Rift Basin to a Chinese company, CNOOC and the French firm, Total.
The deal is worth $2.9bn and ends a deadlock with the Ugandan government over future taxes.
Uganda's Oil Minister Irene Muloni said Tullow had accepted the government's revisions to "stabilisation clauses" which are included in the contracts to protect companies from future losses if the government alters tax laws.
Tullow spokesman George Cazenove said the company is happy with the clauses.
"It's important to remember that the Lake Albert Rift Basin development will be a long-term development for Uganda over many years - there's a lot of oil there," Mr Cazenove told the BBC.
"There will be a refinery in Uganda as well as a pipeline."
The oil deposits and refinery should be large enough to meet Uganda's needs, as well as those of some its neighbours, including eastern Democratic Republic of Congo.
Related Internet Links
The BBC is not responsible for the content of external sites.