Chinese workers freed in Sudan, flown to Kenya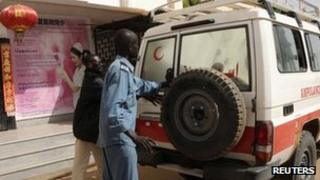 A group of Chinese workers kidnapped by rebels in Sudan has been freed and flown to Kenya, officials from both countries say.
The construction workers were released to the International Committee of the Red Cross on Tuesday, 11 days after they were abducted.
They had been held in Sudan's restive border state of South Kordofan.
A Red Cross plane flew them to Nairobi, where they are to be taken to the Chinese embassy, Sudan says.
Sudan's foreign ministry spokesman al-Obeid Morawah told the BBC that as far as he was aware 29 Chinese nationals were on the flight, and all were in good health.
The Red Cross plane took off from a small airstrip in the South Kordofan town of Kauda, he said.
The road construction workers were taken captive when rebels from the Sudan People's Liberation Movement-North (SPLM-N) stormed their camp on 28 January.
Another 18 people fled the scene, of whom 17 were later found safely.
One man was killed during the SPLM-N attack - his body was earlier handed over to the Chinese embassy in Khartoum.
The SPLM-N - which used to fight alongside the rulers of now independent South Sudan - has been battling government forces in South Kordofan for more than six months.
Correspondents say Beijing is a key supporter of the Khartoum government but the abduction - the third involving Chinese nationals since 2004 - has strained relations.
China buys much of the oil produced in both Sudan and South Sudan and is a major supplier of weapons to Khartoum.
China is trying to mediate a bitter dispute between South Sudan and Sudan over oil, which is produced primarily in South Sudan but runs through pipelines in the north for export.
South Sudan's new leaders deny Khartoum's accusations that they are backing the SPLM-N.