Liberia ex-warlord George Boley to be deported from US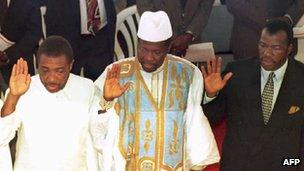 Former Liberian rebel leader George Boley is to be deported from the US over his role in the West African country's civil war in the 1990s.
A US judge said evidence that the ex-Liberian Peace Council leader had been involved in killings and recruited children was grounds for his removal.
Mr Boley, who has been in custody for two years, denies the accusations.
Around a quarter of a million people died during Liberia's 1989-2003 conflict.
The BBC's Jonathan Paye-Layleh in Liberia's capital, Monrovia, says at the height of the civil war there were seven armed groups fighting - and the LPC was one of the largest.
In 1995, Mr Boley joined other warlords, including Charles Taylor, to lead an interim council for about a year. After presidential elections in 1997, the conflict resumed.
US immigration officials said it was the first time the use of child soldiers had been used as a grounds for removal from the US.
The case was brought by the US Immigration and Customs Enforcement (Ice), which said there was evidence from Liberia's Truth and Reconciliation Commission (TRC) that Mr Boley's rebel group had burned dozens of captives accused of witchcraft in 1994.
Witnesses told the TRC that in 1995 Liberian Peace Council fighters massacred 27 villagers "ordering them to lie down before they slit their throats with cutlasses and raping the women before they killed them", Ice said in a statement.
"Various organisations have reported that the LPC engaged in serious human rights abuses against the civilian population. The 1995 United States Department of State report on Human Rights Practices in Liberia documented credible reports that Boley authorised the extrajudicial executions of seven of his soldiers on 14 November 1995," it said.
Mr Boley's son, George Boley Jr, told the Associated Press news agency that the judge had ignored important evidence presented on his father's behalf and said none of the specific allegations brought against him were corroborated by credible evidence.
"I failed to see how initiatives of the LPC translate to human rights violations and violations of international humanitarian laws. The LPC that I know was a focused and respected body," a TRC statement at the time quoted him as saying.
In its final report the TRC recommended that Mr Boley, along with other former warlords, be prosecuted as it said they all bore responsibility for the worst atrocities of the conflict.
But to date no cases have been brought in Liberia, our reporter says.
Mr Taylor, who won presidential elections in 1997, is on trial for war crimes at at UN-backed court sitting at The Hague for his part in neighbouring Sierra Leone's civil war. He had gone into exile in 2003 to Nigeria, where he was arrested.
According to AP, Mr Boley has 30 days to appeal against the deportation ruling.
Related Internet Links
The BBC is not responsible for the content of external sites.