Nigeria's Nuhu Ribadu welcomes oil watchdog post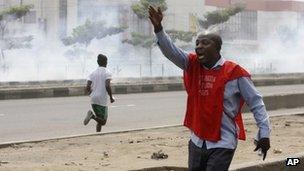 Nigeria's ex-corruption chief Nuhu Ribadu said he viewed his appointment as chair of a new task force to police the oil sector as a national calling.
His 21-member team will track revenues paid to the government, and monitor crude oil production and exports.
Last year, Mr Ribadu stood for president, losing to Jonathan Goodluck, who appointed him to the new post.
He said despite political affiliations, there was a "national consensus" on the "deadly impact of corruption".
Nigeria is Africa's biggest oil producer but the sector has been tainted by accusations of corruption, which many say is a major reason why most of the population remain in poverty.
The BBC's Chris Ewokor in the capital, Abuja, said it is the first time a task force has been appointed to track corruption in oil industry.
He says it comes at a time the sector - including the state-owned Nigerian National Petroleum Corporation - has come in for criticism for alleged corruption and people have decried the lack of transparency.
Last month, there was a nationwide strike when the government tried to remove the subsidy on fuel, angering many Nigerians who see it as the only benefit they received from the country's vast oil wealth.
Oil accounts for some 80% of Nigeria's state revenues but it has hardly any capacity to refine crude oil into fuel, which has to be imported.
The subsidy has meant fuel is much cheaper in Nigeria than in neighbouring countries, so large amounts end up being smuggled abroad.
The government says that the biggest beneficiaries of the subsidy, which has been partly restored, have been the owners of fuel-importing companies - among the richest people in the country.
In a statement entitled "When the Nation Calls", Mr Ribadu said the fuel protests had shown Nigerians were angered by corruption in the sector.
"If we cast an honest look to the recent protests in the wake of the oil subsidy removal, it will be clear to all that the biggest single victory Nigerians scored was to put the question of corruption squarely back on the top of our national policy agenda," he said.
"Regardless of our affiliations, our differences, and our engagements, it is at least safe to say that we have a national consensus on the deadly impact of corruption on our march to greatness, and on the capacity of our people, particularly the youth, to earn a decent, promising, life.
"This, therefore, is a national call."
Mr Ribadu's tenure as the head of the Economic and Financial Crimes Commission bought him to public notice.
While his work was applauded by many Nigerians, he was also accused of allowing himself to be used as a political tool, pursuing only enemies of former President Olusegun Obasanjo.
He was sacked by Mr Obasanjo's successor and went into exile, saying his life had been threatened, only returning after ex-President Umaru Yar'Adua's death.
He ran for president on the opposition Action Congress of Nigeria (ACN) ticket.
The ACN has disassociated itself from his new appointment, saying Mr Ribadu was taking it in his "personal capacity".