Morocco opens North Africa's biggest car plant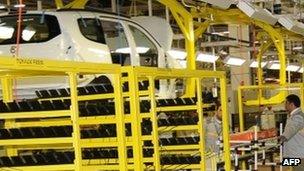 The biggest car factory in North Africa has been officially opened in Morocco by the French firm Renault.
The plant is in Melloussa, a small town on the Mediterranean near Tangiers, in an area close to Europe which offers tax benefits to manufacturers.
Low-cost cars will be produced under the Dacia brand for emerging markets and Renault executives say up to 10% of the production could be sold locally.
It employs about 2,000 local staff and intends to triple production by 2015.
The BBC's Nora Fakim in Tangiers says this could boost staff numbers to 6,000 and create up to 35,000 jobs indirectly.
In recent years, Morocco's economy has been expanding thanks to free trade deals with international partners, but unemployment remains an issue - especially for graduates, who hold weekly protests outside parliament.
Morocco's King Mohammed VI attended the inauguration in Melloussa, along with the country's trade minister and the head of Renault.
Our reporter says like many foreign companies investing in Tangiers - in an area known as the Tangiers Free Zone - Renault says it wants to help develop northern Morocco, which was neglected by past governments.
Renault has invested $1.5bn (£946m) in the factory, which currently has the capacity to produce 147,000 cars annually.
But some, including economist Fouad Abdelmoumi, are sceptical about the project.
"We know that Renault was about to abandon this investment and the Moroccan state gave it huge advantages to convince Renault to continue, including tax incentives," he told the BBC.
These incentives mean the real value to the economy is minimal, he said.
Our correspondent says a number of other foreign car companies aim to open up near the Renault plant, such as Ford and Chinese and Indian manufacturers.
Related Internet Links
The BBC is not responsible for the content of external sites.