Nigerians living in poverty rise to nearly 61%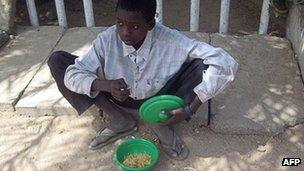 Poverty has risen in Nigeria, with almost 100 million people living on less than a $1 (£0.63) a day, despite economic growth, statistics have shown.
The National Bureau of Statistics said 60.9% of Nigerians in 2010 were living in "absolute poverty" - this figure had risen from 54.7% in 2004.
The bureau predicted this rising trend was likely to continue.
Nigeria is Africa's biggest oil producer but the sector has been tainted by accusations of corruption.
According to the report, absolute poverty is measured by the number of people who can afford only the bare essentials of shelter, food and clothing.
The NBS, a government agency, said there was a paradox at the heart of Nigeria as the economy was going from strength to strength, mainly because of oil production - yet Nigerians were getting poorer.
"Despite the fact that the Nigerian economy is growing, the proportion of Nigerians living in poverty is increasing every year, although it declined between 1985 and 1992, and between 1996 and 2004," head of the NBS bureau Yemi Kale said.
Oil accounts for some 80% of Nigeria's state revenues but it has hardly any capacity to refine crude oil into fuel, which has to be imported.
Last month, there was a nationwide strike when the government tried to remove the subsidy on fuel, angering many Nigerians who see it as the only benefit they received from the country's vast oil wealth.
The NBS said that relative poverty was most apparent in the north of the country, with Sokoto state's poverty rate the highest at 86.4%.
In the north-west and north-east of the country poverty rates were recorded at 77.7% and 76.3% respectively, compared to the south-west at 59.1%.
BBC Africa analyst Richard Hamilton says it is perhaps no surprise that extremist groups, such as Boko Haram, continue to have an appeal in northern parts of the country, where poverty and underdevelopment are at their most severe.
The report also revealed that Nigerians consider themselves to be getting poorer.
In 2010, 93.9% of respondents felt themselves to be poor compared to 75.5% six years earlier.
Mr Kale says releasing such statistics from time to time is crucial for effective government planning.
"This kind of data helps them to know what is really happening so they can track their policies and programmes," he told the BBC's Focus on Africa programme.
"It gives them the opportunity to look at what they are doing... and if there are areas they need to change, it makes it easier to modify strategies," he added.
Nigeria: A nation divided
Despite its vast resources, Nigeria ranks among the most unequal countries in the world, according to the UN. The poverty in the north is in stark contrast to the more developed southern states. While in the oil-rich south-east, the residents of Delta and Akwa Ibom complain that all the wealth they generate flows up the pipeline to Abuja and Lagos.
Nigeria's 160 million people are divided between numerous ethno-linguistic groups and also along religious lines. Broadly, the Hausa-Fulani people based in the north are mostly Muslims. The Yorubas of the south-west are divided between Muslims and Christians, while the Igbos of the south-east and neighbouring groups are mostly Christian or animist. The Middle Belt is home to hundreds of groups with different beliefs, and around Jos there are frequent clashes between Hausa-speaking Muslims and Christian members of the Berom community.
Southern residents tend to have better access to healthcare, as reflected by the greater uptake of vaccines for polio, tuberculosis, tetanus and diphtheria. Some northern groups have in the past boycotted immunisation programmes, saying they are a Western plot to make Muslim women infertile. This led to a recurrence of polio, but the vaccinations have now resumed.
Female literacy is seen as the key to raising living standards for the next generation. For example, a newborn child is far likelier to survive if its mother is well-educated. In Nigeria we see a stark contrast between the mainly Muslim north and the Christian and animist south. In some northern states less than 5% of women can read and write, whereas in some Igbo areas more than 90% are literate.
Nigeria is Africa's biggest oil producer and among the biggest in the world but most of its people subsist on less than $2 a day. The oil is produced in the south-east and some militant groups there want to keep a greater share of the wealth which comes from under their feet. Attacks by militants on oil installations led to a sharp fall in Nigeria's output during the last decade. But in 2010, a government amnesty led thousands of fighters to lay down their weapons.
Related Internet Links
The BBC is not responsible for the content of external sites.