Lioness attack kills South Africa zoo keeper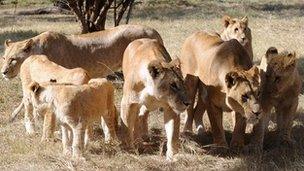 A lioness has attacked and killed a 65-year-old South African zoo keeper at a farm owned by Johannesburg Zoo.
Joe Ramanata, who had worked for the zoo for more than 40 years, was taken to hospital but was declared dead on arrival, the zoo said.
"He was either feeding or cleaning an enclosure when he was attacked by a lioness," zoo spokeswoman, Letta Madlala, told the AFP news agency.
The 11-year-old lioness was tranquilised after the incident.
Ms Madlala said zoo managers planned to meet and decide on the fate of the lioness, AP news agency report.
She said Mr Ramanata was an experienced animal handler.
The incident happened on Parys Zoo Farm, a breeding farm in the Free State Province, about 120km (75 miles) south-west of Johannesburg.
Another spokeswoman for the zoo, Louise Gordon, said the incident may have been down to human error as it appeared that one of the enclosures was not locked at the time of the attack, reports South Africa's Pretoria News newspaper.
Police are have opened an investigation into the death.
Related Internet Links
The BBC is not responsible for the content of external sites.